Medalist leaves Olympics after racy pics hit Web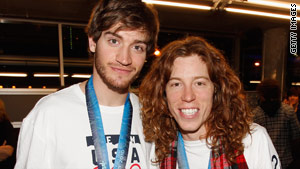 Bronze medalist Scotty Lago, left, shown here at USA House with gold medalist Shaun White, has left the Games.
STORY HIGHLIGHTS
USSA president: Scotty Lago "has formally apologized and also made a decision to leave"
Gossip site TMZ published pictures of Scotty Lago with fan kissing medal below waistline
Lago reportedly apologized to U.S. Olympic Committee and headed back to the United States
Prior to incident, USOC created etiquette program for athletes, known as ambassador program
Vancouver, British Colombia (CNN) -- Bronze medalist Scott Lago apologized to U.S. officials and volunteered to leave the Olympic Games after racy pictures of him, his medal and a female fan showed up on the Internet, a spokesman for the U.S. ski and snowboard team confirmed Saturday.
Lago, from Seabrook, New Hampshire, finished third in Wednesday night's snowboard halfpipe event. It was his first trip to the Olympics.
On Friday morning, the gossip Web site TMZ.com published two pictures of Lago. In one, the unidentified fan is kissing the medal while it hangs just below the waistline of Lago's pants. In the second, she is biting down on the medal, which is around Lago's neck, as teammate Greg Bretz looks on. It is unclear when the photos were taken.
U.S. Ski and Snowboard Association President and CEO Bill Marolt said Lago had apologized to the U.S. Olympic Committee and the U.S. snowboard federation, and left Canada.
"Scotty Lago is a great athlete, but with that comes a responsibility of proper conduct and his involvement in this situation is not acceptable," Marolt said in a written statement.
"Scotty realizes his conduct was inappropriate. He has formally apologized and also made a decision to leave Vancouver today."
He was not entered to compete in any remaining events. Lago could not be reached for comment Saturday.

Video: Ohno makes Olympic history
Scotty realizes his conduct was inappropriate. He has formally apologized and also made a decision to leave Vancouver today.
--Bill Marolt, U.S. Ski and Snowboard Association
The association's code of conduct, posted on the USSA Web site, states that members "shall maintain high standards of moral and ethical conduct, which includes self-control and responsible behavior."
Before the Beijing Games, the USOC created a required etiquette program for its athletes and officials, known as the ambassador program. The goal is to advise athletes on local customs of the Olympics host nation and how to act in a spotlight most are very unfamiliar with.
Lago, 22, is not the first Olympian to leave the Games over behavior. Aerials skier Jeret "Speedy" Peterson was sent home from the 2006 Torino Games when he was involved in an early morning fight with a friend.
Nor is Lago alone in facing public scrutiny for his off-the-field activities. Alpine skier Bode Miller's partying at the same Games was well chronicled in photos. And pictures of Michael Phelps appearing to smoke from a marijuana pipe hit the Internet six months after he won eight gold medals at the 2008 Olympics.
Lago is the first Olympian to appear on the new sports section of the TMZ site, which decried his departure.
"He's a snowboarder for cryin' out loud. They should have cut him a break," the Web site said. Of more than 160,000 people that responded to the Web poll on the TMZ page, 80 percent agreed.