STORY HIGHLIGHTS
Scotland delays sending its team amid concerns over accommodation
Australian and English athletes have pulled out, citing safety fears
Pedestrian bridge leading to stadium collapsed on Tuesday
Head of games federation calls athletes' village "disgusting"
(CNN) -- National teams stepped up their criticism Wednesday of hygiene and security at the Commonwealth Games in India, as organizers were forced to deal with more damage at one of the venues.
Parts of a false ceiling at the weightlifting venue in New Delhi came off overnight, said Rajendra Kalla, a superintendent engineer at India's Central Public Works Department. Nine ceiling tiles fell to the floor, and Kalla described the damage as minor.
It happened at the same venue -- Jawaharlal Nehru Stadium -- where a bridge collapse Tuesday injured 27 people.
Those structural problems came on top of concerns about security and hygiene, mainly at the athletes' village, which has room for some 8,500 athletes.
Scottish officials said they are delaying the departure of their first team of 41 athletes and staff for the games because of concerns "that a significant part of the athletes' village residential zone is far from finished and nowhere near an acceptable standard in terms of health, safety, and hygiene."
The village is "uninhabitable" and "filthy," not secure, and there are stray dogs around, Michael Cavanagh, chairman of Commonwealth Games Scotland, told Sky News. A meeting was taking place Wednesday between Scottish team leaders and organizers to try to resolve the problems, he said.
Cavanagh said he hoped the delay would give organizers more time to address the concerns. The games are due to begin on October 3.
About 6,500 athletes from 71 teams -- mostly from countries of the former British Empire -- are due to travel to India for the games and will play in newly built or renovated stadia. India, the Commonwealth's most populous nation, is hosting the event for the first time.

Video: Commonwealth Games bridge collapses

Video: India: Games on schedule

Video: Collapsed bridge raises concerns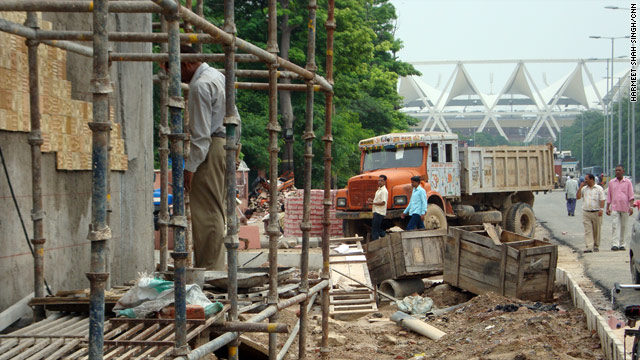 Gallery: New Delhi gets ready for games
Participating nations scheduled to attend include England, Scotland, Australia, New Zealand, Canada, Pakistan, Nigeria, South Africa, Malaysia and Sri Lanka.
Commonwealth Games building goes to wire
The delegation from Wales was giving games organizers a Wednesday-night deadline to address concerns over the safety of the venues and safety and hygiene in the village, a Sport Wales spokeswoman told CNN. Depending on what organizers say, Sport Wales will make a decision on the team's participation in the games, she said.
The Canadian Commonwealth committee also expressed its concerns, citing the need for a "major clean-up" at the village and problems with plumbing, wiring, furnishings, Internet access, and mobile telephone coverage, according to a statement from Scott Stevenson, director of sport for Commonwealth Games Canada.
"We recognize that the monsoon rains have made things more difficult for workers here," he said. "But the current conditions are unacceptable and we have formally requested that the (Commonwealth Games Federation) and the organizing committee get these issues resolved prior to the athlete arrivals that begin on Friday."
The problems can be fixed in time, he said, but "it's going to take a massive, coordinated effort to get it done."
Concerns over security have also overshadowed the buildup to the games with Australia issuing a travel alert earlier this week warning of a heightened risk of terrorism in the Indian capital during the event.
A shooting attack Sunday on a bus near a New Delhi mosque injured two Taiwanese tourists. Police downplayed the assault and said the city is safe for visitors.
English world triple jump champion Phillips Idowu said Wednesday he was pulling out after thinking about his family. He said the decision was disappointing for him because he won his first international medal at the Commonwealth Games eight years ago.
"All the press today about bridges collapsing and 23-plus people being hurt, floods and unhabitable living conditions, getting my daughter ready for school this morning and seeing all of that put me off," Idowu wrote in a Twitter posting. "Can't afford to risk my safety in the slightest."
He added that it "was a tough choice to make but I made it for my children."
Two other English athletes, Olympic champion Christine Ohuruogu and medal hopeful Lisa Dobriskey, pulled out of the games Tuesday because of injury-related problems, a Team England spokeswoman said.
World discus champion Dani Samuels of Australia announced Tuesday she was pulling out because of security fears and health hazards including dengue fever, her manager, Hayden Knowles, told CNN.
"It's not a decision that she came to lightly," Knowles said. "The Commonwealth Games are definitely something on her list of things she wanted to achieve."
The collapse of the pedestrian bridge near Jawarharlal Nehru Stadium injured 27 people, New Delhi police spokesman Rajan Bhagat said.
Designed as a pathway from a parking area to the stadium, the bridge was scheduled for completion this week.
Mike Hooper, chief executive officer of the Commonwealth Games Federation, complained of the conditions inside the rooms where the athletes are expected to live.
"Filth, excrement -- it really is disgusting in parts. And it really requires a professional, deep clean throughout the entire complex," he said.
The organizing committee was eager to soothe concerns and said an "intense effort" is being made to address all of the issues being raised about the athletes' village.
Some work, especially deep cleaning, has already started, said Lalit Bhanot, secretary-general of the Organising Committee Commonwealth Games 2010 Delhi.
"We have started work in the 32 towers and will complete it before the arrival of the athletes," he said. "In fact, we have cleaned apartments in more than 60 percent of the towers."
The mayor of the village, Dalbir Singh, said some of the issues arose because the apartments have been unoccupied.
"It is an ongoing process and a structure for maintenance is in place," he said. "We will resolve all concerns."
Monsoon rains have similarly compounded the woes, with a spike in cases of dengue fever, water-logged streets and massive traffic snarls.
CNN's Ben Brumfield in Atlanta, Georgia, and Harmeet Shah Singh in New Delhi, India, contributed to this report.
FOLLOW THIS TOPIC