STORY HIGHLIGHTS
Nigerian-born Ade Adepitan overcame polio to become a wheelchair basketball star
Representing Great Britain, he won the bronze medal at the 2004 Athens Games
The athlete and TV presenter says he would like to raise profile of disability sport in Africa
Every week CNN International's African Voices highlights Africa's most engaging personalities, exploring the lives and passions of people who rarely open themselves up to the camera. This week we profile Nigerian-born wheelchair basketball star Ade Adepitan.
(CNN) -- Childhood polio left him using a wheelchair, but that's never stopped Paralympian Ade Adepitan from achieving his goals.
When he was growing up, there was little awareness of disability sports, the Nigerian-born wheelchair basketball champion says.
"Because I had a disability, because I did not know about the Paralympics, I always assumed that my only way of competing at sport was competing with other able-bodied people," said Adepitan.
But hard work, coupled with innate determination and passion for sports, helped him achieve an illustrious athletic career that culminated in 2004 when he won the bronze medal at the Athens Paralympics as a member of Great Britain's wheelchair basketball team.
Adepitan's aim off the court is to further raise the profile of disability sports. A familiar face to British sports fans, he's an ambassador for London's 2012 Olympic and Paralympic Games.
These days, most kids are generally aware of disability sports, but "there's a lot more that can be done," Adepitan said.

Starting a paralympic career

An inspirational success story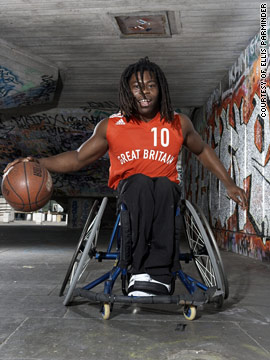 Gallery: Paralympics star Ade Adepitan
"I think it's a great opportunity for us to increase the profile of Paralympians, increase the profile of Paralympic sports and also get better facilities," he said of the 2012 Games.
Since retiring from international action in 2006, Adepitan has forged a new career in media as a television presenter. As part of his work, he works on a program that shines the spotlight on Paralympians.
The aim, he said, is "to get the public to know who they are, know what they are about and fall in love with them so by the time 2012 comes around, the public will know who they are and support them."
Despite all his accomplishments as an athlete and entertainer in Britain, Adepitan is quick to point out that he's never forgotten his African upbringing.
"You can't escape your heritage," Adepitan says. "Not that I want to escape it, I mean it's part of me -- being African is part of me."
Adepitan says he'd like to take his expertise back to Africa to see if he could help disability sport on the continent.
"It would be really nice to go back and help set up an academy of sport, coach some players, do some workshops, just bring back some of my knowledge. I've played sport at an elite level for 20 years so I think I must know something that I can bring back for the guys."
One of the things that holds Africa back when it comes to disability sport is the price of Paralympic equipment, Adepitan says. He believes that if more resources are made available, the continent will then be able to play a major role in the Games.
You can't escape your heritage. Not that I want to escape it, I mean it's part of me -- being African is part of me.
--Ade Adepitan
"Africa has a big part to play in Paralympic sports and the effect of the Paralympics and Paralympic sports in Africa will be huge on educating and empowering disabled people in Africa."
Born near Lagos, Nigeria, in 1973, Adepitan moved to the United Kingdom with his family at the age of 3.
As a youngster, he wasn't drawn to wheelchair basketball. "I didn't always use a wheelchair and I felt getting into a wheelchair would be a step backwards," he said.
But his mindset changed when he attended a training session of the Great Britain wheelchair basketball team. Watching those athletes compete prompted him to take up the sport that helped transform his life.
"I was totally blown away by them," Adepitan recalled. "They blew away all my preconceptions of what wheelchair sport was about. These guys were athletes, they had massive arms."
From that moment, he decided he would set out to be a Paralympian and compete at the highest level, he said.
Adepitan says he never dreamed that one day he would be recognized for being an athlete or being a TV personality rather than for having a disability.
"(It is) just a really nice feeling and it feels like I have kind of accomplished something and kind of had an impact on the world."
FOLLOW THIS TOPIC