Will Favre's consecutive games streak end?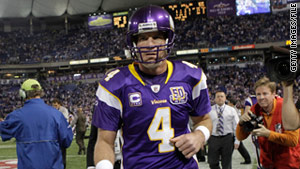 Favre was injured in a hit during a game December 5 with the Buffalo Bills.
STORY HIGHLIGHTS
NFL quarterback Brett Favre's consecutive starts streak is at risk
Favre, whose shoulder is hurt, reportedly says he doesn't plan to play
He has started 297 and played in 299 games in a row
(CNN) -- Will he or won't he?
Questions are swirling about whether Minnesota Vikings quarterback Brett Favre will attempt Monday night what would be his 298th consecutive start.
Favre has started a pro game during football season each week for the past 19 years and holds the NFL record for most consecutive starts. His shoulder is injured, though, and he reportedly told a USA Today columnist that he looks forward to "chillin for a change" when the Vikings play the New York Giants on Monday night.
Favre was injured in a hit during a game December 5 with the Buffalo Bills, forcing the 41-year-old quarterback from the game after the first series. He is listed as "questionable" for Monday's game on the team's injury report.
He did practice Friday, prompting interim Coach Leslie Frazier to express hope that Favre would once again overcome injuries to start. But on Sunday, the veteran quarterback seemed to squash any suggestion he would start in a text to USA Today columnist Jon Saraceno.
"U know what I kinda look forward to just chillin for a change," Saraceno, in a Twitter post, quoted Favre's text as saying.
News to me, Frazier said Sunday.
"I don't know where that would come from, because based on everything I have seen, there is still a possibility he could play, especially getting an extra day," Frazier said.
Favre passed former Vikings defensive end Jim Marshall in 2009 to break the NFL record for consecutive starts. He also holds the record for the most consecutive games played.
Favre played most of his career in Green Bay before coming out of retirement to play for the New York Jets and the Vikings. He has started 297 consecutive games and appeared in 299 in a row.
Favre got an extra day to rest -- and try to heal -- after heavy snow caused part of the roof to collapse at the Metrodome, where the Minnesota Vikings play their home games. The Vikings were scheduled to face the New York Giants there on Sunday, but the NFL delayed the game a day and moved it to Detroit, Michigan.
The rescheduled game is set for 6:20 p.m. CT at Ford Field in Detroit.