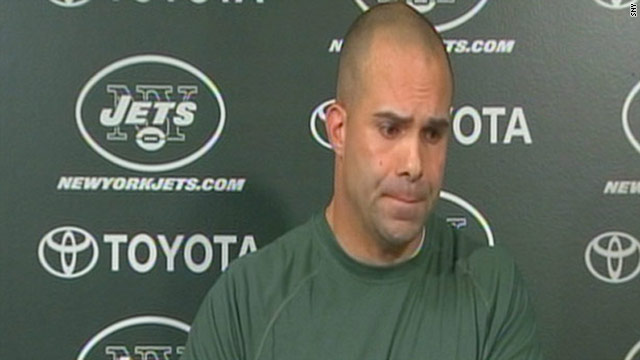 STORY HIGHLIGHTS
Jets suspend strength and conditioning coach Sal Alosi without pay, fine him $25,000
Alosi tripped Dolphins rookie cornerback Nolan Carroll on Jets' sideline on Sunday
In statement, Alosi says he accepts responsibility for his actions, respects decision
Jets head coach: "That's a thing that has no business in this league or anywhere else"
(CNN) -- The New York Jets on Monday suspended a strength and conditioning coach through the 2010 season's playoffs for intentionally tripping a Miami Dolphins player during Sunday's Jets-Dolphins game, the Jets said on their website.
The Jets said they suspended Sal Alosi without pay and fined him $25,000 for tripping Dolphins rookie cornerback Nolan Carroll on the Jets' sideline as Carroll was covering a punt in the third quarter of Miami's 10-6 victory.
"After reviewing the facts and consulting with the league office, we determined that this was the most appropriate discipline," Jets General Manager Mike Tannenbaum said on the Jets' site. "I have spoken with Sal. He understands the severity of his actions and has apologized to all parties involved in the incident."
Alosi, who will be barred from the Jets' practice facility until the end of the season, said in a statement that he accepts responsibility for his actions and respects the team's decision.
Carroll, covered by two Jets players, was running along the sideline toward the Jets' punt returner when the incident happened at the New Meadowlands Stadium in New Jersey. Video shows Carroll was out of bounds and trying to run back in the field of play when Alosi -- standing with his hands in his pockets -- leaned his left knee forward. The knee caught Carroll, who tumbled to the ground.
Carroll was shaken up but eventually walked to his sideline on his own power. He returned to the game in the fourth quarter.
Before the suspension was announced, Alosi told reporters Monday that he was sorry for the incident, and that he wasn't thinking during the play.
"If I could go back and do it again, I sure as heck would take a step back. It was just a situation where I wasn't thinking," Alosi said during a news conference Monday afternoon at the Jets' facility in Florham Park, New Jersey.
He said he apologized after the game Sunday to Carroll, Dolphins head coach Tony Sparano and Jets owner Woody Johnson, among others. He said he hadn't offered to resign but would accept whatever disciplinary action he received.
"I let everybody down yesterday with my actions. My actions were inexcusable and irresponsible. I'm extremely thankful that my actions yesterday didn't result in any significant injury to Nolan or any other player," he said.
Noting that the Dolphins had been penalized earlier in the game for running out of bounds, a reporter asked Alosi whether someone had instructed him and other Jets personnel to stand close to the sidelines to prevent such moves.
"No, that wasn't anything that was instructed," Alosi said. "Our inactive players -- guys that don't play -- we try to keep those guys focused on the game, root those players on. ... We wanted to cheer on our guys."
Meeting with reporters before the suspension was announced, Jets head coach Rex Ryan said the Jets and the NFL were working together on Alosi's punishment. Ryan said he wanted to apologize to Carroll and the Dolphins.
"That's a thing that has no business in this league or anywhere else. Sal made a huge mistake. He knows that. He's apologized for it," Ryan said.
Sparano, before he had a chance to review the tape, told reporters after the game Sunday that his coaches upstairs were telling him that Carroll had been tripped.
"I talked to the referee at that point ... [and] I told him at that point that it was on tape and that the people upstairs are telling me that that's what they see," Sparano said.
Carroll told South Florida's Sun Sentinel newspaper that he wasn't angry. But some of his teammates were.
"Come on, man. That's dirty! ... There's no place for that in football," Dolphins linebacker Karlos Dansby said Sunday, according to the Sun-Sentinel. "Hopefully they'll be fined for it. I'll leave it up to the league."
Alosi, who played linebacker at Hofstra, joined the Jets as an intern in 2002 before serving as their assistant strength and conditioning coach from 2003 to 2005. He worked one year with the Atlanta Falcons before returning to the Jets as their head strength and conditioning coach in 2007.
FOLLOW THIS TOPIC