STORY HIGHLIGHTS
New Zealand seeking to continue World Cup dream by beating Paraguay
The All Whites made history by earning first-ever point with 1-1 draw against Slovakia
Kiwis followed that up by holding world champions Italy in second Group F match
It is only the second time the small Southern Hemisphere nation has played at World Cup
London, England (CNN) -- Its people are not known for making brash boasts -- but an unexpected optimism is bubbling up in New Zealand ahead of Thursday's World Cup showdown with Paraguay in South Africa.
The All Whites have far exceeded expectations by gaining their first-ever point at soccer's biggest tournament, drawing 1-1 with Slovakia. They then repeated that result against world champions Italy, who could go home early depending on the final round of results.
New Zealand is a small country both in geographical and footballing terms. This is only the second time the national team has qualified for the World Cup, and comes 28 years after losing all three matches in Spain in 1982.
It's a nation where sheep outnumber people by 10-1, and where society's values are still strongly influenced by the 19th-century clash of colonial settlers and the indigenous Maori people.

In more recent times it's perhaps best known for its stunning scenery -- showcased in the "Lord Of The Rings" movie trilogy -- or recent comedy music pairing The Flight Of The Conchords.
From now on, everything is possible. We're doing pretty well for a team that some people said had no place at this World Cup
--NZ coach Ricki Herbert
New Zealand's main sport is rugby union, and its All Blacks are expected to win every match they play. The same cannot be said for the soccer team, ranked a lowly 78th before the World Cup kicked off -- but recent results are changing that.
All Whites coach Ricki Herbert described the draw with fellow minnows Slovakia as the biggest footballing achievement for a country where, traditionally, the use of that sporting word refers to rugby.
Most Kiwis, like Americans, call the round-ball game "soccer" despite the national federation rebranding itself to New Zealand Football in 2007.
"I think our entire country, which numbers four million inhabitants, came to a stop to watch our performance. It's an incredible result for football in New Zealand," Herbert told reporters.
"It's historic and greater than anything else we've ever achieved when you consider the standing of our opponents. From now on, everything is possible, and we're doing pretty well for a team that according to some people had no place at this World Cup."
Back home the response has been equally enthusiastic.

One New Zealand politician wants to introduce a national holiday if the All Whites beat Paraguay.
"Getting through that stage is going to be very close to being the biggest achievement that we've done, at a sporting event on that massive scale. It's beyond most of our dreams," opposition MP Trevor Mallard told the website of newspaper the NZ Herald.
"To put it in context, there was an All Black rugby test against Wales last weekend and there is another one on Saturday -- but no-one is talking about those matches," explained Glen Scanlon, a former CNN journalist now working for the Waikato Times newspaper in New Zealand. "It's all about the All Whites.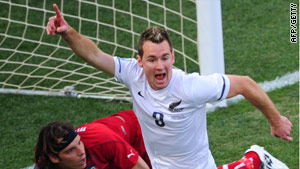 Shane Smeltz opens the scoring for New Zealand against Italy in the Group F World Cup match.
"We've filled the front page twice with the All Whites' draws -- something that I don't think has ever happened. The whole minnow idea, that the All Whites are keeping the big boys honest, appeals very much to Kiwis and they've delighted in seeing them hold the Italians and other big name sides -- like France and England -- struggling."
Meanwhile, a group of 100 businesses in Auckland, the country's biggest city, have promised to decorate their offices white to support the team, while a number of other companies are trying to cash in with related promotions.
"Fifteen years ago we all put on red socks to help the late Sir Peter Blake win the America's Cup [yachting event]," said Cameron Brewer, chief executive of the Newmarket Business Association. "We're now asking people to go all white to show their support for our greatest football team ever."
Added Scanlon: "If you walk into bar or get into a taxi, the first topic of conversation will be the All Whites. Before the tournament a lot of New Zealanders would have struggled to recognize the players but there is no problem there now."
New Zealand's nearest neighbor, Australia, is often dubbed "the America of the Pacific" and its people are generally loud in their sporting confidence. In contrast New Zealanders tend to have more conservative British traits underpinned by a fierce independence of spirit.
Australians are often associated with big bounding animals such as kangaroos -- the much-loved "Skippy" is a national icon. New Zealanders are known as "Kiwis" after the country's small, shy flightless bird which only comes out at night.

In comparison with its larger neighbor, New Zealand can often fall off the radar. But Australia has been somewhat muted after the Socceroos exited the World Cup early after two opening defeats, in contrast to New Zealand's success.
It's a big improvement on the last World Cup appearance in 1982, when the All Whites team was stacked with British-born journeyman players who could not make the grade back home, and was coached by Englishman John Adshead.
New Zealand footballer Simon Elliott and Ricki Herbert, head coach, after holding Italy to a draw.
His assistant Kevin Fallon, another Englishman, is the father of All Whites striker Rory, born in the North Island town of Gisborne and one of four squad members of Maori descent.
Current coach Herbert was one of the New Zealand-born players in that squad. He became national coach in 2005, for which he is paid $NZ50,000 ($35,000) for his part-time role, also managing Wellington Phoenix -- New Zealand's only fully professional team which actually plays in the Australian A-League.
Squad members play for Wellington as well as in the A-League and the MLS (New York Red Bulls' Andy Boyens.) Semi-professional Andrew Barron had to take time off from his job as an investment banker to make the trip to South Africa.
Seven players ply their trade in European leagues, the most high-profile being captain Ryan Nelsen, who plays for English Premier League club Blackburn.
"It leaves me speechless when I think about what we've accomplished thanks to everyone's dedication to the team as a whole," said Nelsen. "We've given ourselves a chance of reaching the next round and that's an exciting challenge. All we can do now is give everything to seize that chance in the last match."
Nelsen is the fifth member of his family to represent New Zealand. His late grandfather Bob Smith was chairman of the country's football association.
"When I was a young kid growing up I always heard legendary tales of how my grandfather got the ball rolling for the World Cup and the influence he had on New Zealand football,'' the defender, who graduated from U.S. university Stanford and captained D.C. United to the Major League Soccer Cup title in 2004, wrote in his book "Ryan Nelsen's Road to the World Cup."
"It is funny how it has gone full circle with him starting it off and his grandson getting to the World Cup.''
FOLLOW THIS TOPIC