STORY HIGHLIGHTS
Alex Ferguson believes Chelsea will again be their main rivals for the Premier League title
United boss tells CNN that this season's head to heads will be vital
Ferguson expects Jose Mourinho's Real Madrid to be a force in Europe this season
(CNN) -- Manchester United manager Alex Ferguson believes the English Premier League title race will ultimately boil down to a battle between his Red Devils and the reigning champions Chelsea.
Ferguson's team were denied a fourth straight title by their arch-rivals last season and with the Blues making a storming start to the present campaign, notching up five wins from five games, the Scot has no doubt the challenge from the London-based team will be strong.
In an exclusive interview, in which all questions posed to the legendary coach were garnered from the CNN audience, Ferguson's mind was clear: "They've had a good start to the season and I look upon them as the main danger to us, there's no question about that."
Chelsea won both clashes in the 2009-10 season, edging United by a single point in the title race so Ferguson has identified this season's head-to-head games as likely championship deciders.
How we asked Alex Ferguson your questions
"We don't play Chelsea until December so a lot can happen before the two sides meet," he said.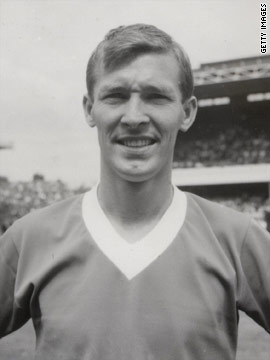 Gallery: Alex Ferguson
"There are other big ones you can't dismiss -- Arsenal, Liverpool, Everton -- Tottenham who have improved tremendously in the last year, you can't dismiss these teams, but realistically you can't go beyond Chelsea as the main danger," he added.
Ferguson has also set his sights on capturing the third European Champions League crown of his remarkable 24-year reign at Old Trafford.
But he believes this year's competition is wide open and expects a "great improvement" from Real Madrid now former Chelsea manager Jose Mourinho has taken charge at the Bernabeu.
What CEOs can learn from football
Realistically you can't go beyond Chelsea as the main danger
--Alex Ferguson
"Barcelona are still the most attractive team and they will be one of the main dangers, Inter Milan (the defending champions) the most difficult to beat, so they've all got their different qualities, but it's such an exciting tournament, you can't help but look forward to it," the 68-year-old added with some relish.
"Ajax, Bayern Munich, Inter Milan, AC Milan, Real Madrid, Barcelona, all the previous winners are in the pot, and of course, you expect great improvement from Real Madrid under Jose Mourinho."
Ferguson clearly has not lost his appetite for success and with a new generation of young stars coming to the fore at United he has put to one side any thought of retirement.
"I've said this time and time again about people my age, I think retirement is for young people, because they can do something else.
"When you get to my age then if your health is good, you like to work, simple as that."
CNN received questions from across the world -- from Africa to the Middle East, Los Angeles to London -- but for Ferguson the global draw of being in charge of the one of the world's most famous clubs is something he has grown used to.
"We went on a tour in 1988 to the Far East, and even then, in that part of the world, football was huge. I think in the past decade in particular it has swelled to the United States and our [recent] visit there gave us a fantastic turnout of fans."
The questions from the CNN audience for Alex Ferguson
"Who has been your favorite player?" was one of the most popular questions submitted to CNN by its audience, but it was a poser Ferguson found difficult to answer.
"Well that's difficult because, for instance, Bryan Robson was an incredible presence in the dressing room and was loved by the players -- tactically he was very astute. Roy Keane was a driving force in the dressing room, but they weren't the best footballers.
"They had unbelievable quality that made them great players but the great players we've had in terms of real quality, you [have to include] Eric Cantona, Ryan Giggs and Cristiano Ronaldo, Wayne Rooney ... Paul Scholes as I said earlier on, these were fantastic footballers but to try and say who was the best of them all, it's very difficult."
Though proud of his tenure so far, Ferguson clearly remains determined as ever to clinch his 12th Premier League title and with it a record 19th English championship to surpass the mark jointly held with bitter north-west rivals Liverpool.
FOLLOW THIS TOPIC