2 top FIFA officials suspended amid World Cup bribe probe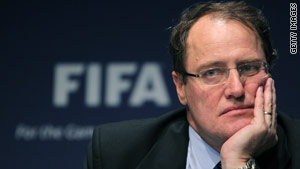 "Today is a sad day for football and for FIFA," Claudio Sulser, chairman of FIFA's ethics committee, said Wednesday.
STORY HIGHLIGHTS
FIFA suspends two members of its executive committee and four others
It is investigating if officials solicited bribes in exchange for backing World Cup bids
Another four people associated with FIFA also are suspended
The probe will not delay a December vote on who will host the 2018 and 2022 events
(CNN) -- FIFA has suspended two of its top officials as it probes reports they solicited bribes in exchange for supporting 2018 and 2022 World Cup bids, the world soccer governing body announced Wednesday.
Amos Adamu and Reynald Temarii are barred from taking part in any soccer-related activity -- whether it is administrative tasks, athletic competitions or otherwise. The bans take effect immediately, though the move is "provisional" and could be reversed as the investigation continues.
"Today is a sad day for football and for FIFA," said Claudio Sulser, chairman of FIFA's ethics committee, which voted unanimously to issue the suspensions.
A FIFA member since 2006, Adamu, 57, is the director of sports development in his native Nigeria. Temarii, 43, is president of the Oceania Football Confederation and advisor to the French Polynesian government. He has been on FIFA's executive committee for the past six years.
In addition, the ethics committee provisionally suspended four other officials -- Slim Aloulou, Amadou Diakite, Ahongalu Fusimalohi and Ismael Bhamjee -- from soccer-related activities after tying them to the World Cup bribe scandal. All four are members of international soccer federations affiliated with FIFA.
The announcement comes three days after the Sunday Times of London published an article headlined, "World Cup votes for sale." In an undercover operation, the newspaper's reporters said they approached six current or former FIFA officials, all of whom "suggested paying huge bribes to FIFA executive committee members." Two of the six asked for direct payment themselves, the paper reported.
FIFA began investigating Adamu and Temarii on Monday. The ethics committee will meet again in mid-November as it investigates all six cases, according to FIFA. The six suspensions will last 30 days and could be extended another 20 days, FIFA Secretary General Jerome Valcke said Wednesday.
"We have enough time until mid-November to see if (the allegations) are more than rumors, but facts," said Valcke.
There are four candidates, all in Europe, to host the 2018 tournament: England, Russia and a pair of dual bids, one from Spain and Portugal, the other from Belgium and the Netherlands. The United States, Australia, Japan, South Korea and Qatar all hope to be home to the 2022 tournament.
All the committees behind each country's World Cup bids have denied wrongdoing, according to the Sunday Times.
FIFA's Switzerland-based executive committee will meet in Zurich on October 28 and 29 to further discuss the final voting process ahead of the December 2 decision on both tournaments. Despite questions about the integrity of the bid process, that date will not be pushed back, Valcke said.