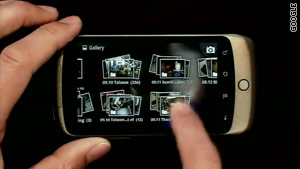 Google's Nexus One is available for sale through a Google hosted Web store.
STORY HIGHLIGHTS
Some technology analysts say Google's online store is a bigger deal than its phone
Consumers can buy the Nexus One smartphone directly from the company
It's an incredibly smart decision by Google to move into e-commerce, analyst says
It looks like Google is trying to disrupt the entire wireless carrier market, observer says
(CNN) -- You know Google as a search engine giant, an e-mail provider, and even a verb -- but as an online store?
As the company showed off its sleek new Nexus One Tuesday, its first entry into the smartphone market, Google also created lots of buzz by announcing the device would be available for sale through its very own Google-hosted Web store.
So much buzz, in fact, that some technology analysts argued the store was a bigger deal than the phone.
"From a macro level, it's a much larger story that Google is finally getting into the e-commerce world and that they're starting to sell products directly to the consumer," said Scott Steinberg, publisher of DigitalTrends.com.
"You're looking at a company that basically is expanding into every possible category and is attacking major players in multiple spaces on virtually every front, so it's only natural that they would move into e-commerce."
Google's store lets users take a 3D tour of the Nexus One, check out some of the apps available and, naturally, order the device, at $529 a pop.

Video: Google unveils 'superphone'
"We also want to make the overall user experience simple: a simple purchasing process, simple service plans from operators, simple and worry-free delivery and start-up," wrote Mario Queiroz, Google's vice president of product management, on the company's official blog.
Google's model is significant for another reason. Instead of picking a carrier first and then a phone, the consumers can pick a phone first, and then decide on a carrier.
"What it seems like Google is trying to do is disrupt the entire wireless carrier market," said Ben Parr, co-editor of the social-networking blog Mashable.com.
"They're trying to wrestle away control from the carriers so that they can do more with their phone. ... If Google succeeds, you'll see that model happen more and more."
Parr expects Google to sell more hardware that helps consumers get on the Web and stay online longer, because that's where Google displays its ads and that's how it makes money.
In fact, Google doesn't even have to make a profit on the Nexus One -- all the company has to do to is get people to be on the Internet more, Parr said.
And in case you don't log onto the online store, you can check out the phone on Google's home page, which rarely features ads but which now showcases a prominent plug for the Nexus One.
Google will still stay a search and software company at its core, Steinberg and Parr believe, but the move into e-commerce is a sign of bigger things to come.
"It does produce some amazing potential here for rapid expansion," Steinberg said. "I think it's an incredibly smart decision by Google to move into this space."