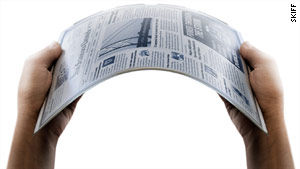 The Skiff Reader has a flexible sheet of steel foil that makes it durable.
STORY HIGHLIGHTS
A host of pioneering electronic readers are being introduced this week at CES
The Plastic Logic Que and Skiff Reader are skinny, with lightweight plastic screens
EnTourage's eDGe device is an e-reader and a netbook in one
Free software called Blio turns almost any laptop or netbook into an image-rich e-reader
Las Vegas, Nevada (CNN) -- The first generation of electronic readers had little more than black-and-white text. The second generation had black-and-white text, simple graphics and Web connectivity.
Glimpses of the third generation are on display this week at the International Consumer Electronics Show, where manufacturers are previewing e-readers with color screens, interactive graphics and magazine-style layouts.
You won't be able to get your hands on them for a month or two, at least. But these forthcoming devices -- some of them still prototypes -- may heighten interest in what is already a hot consumer electronics category while offering hope to newspapers, magazines and other struggling print publishers.
"We're not really designed to save the newspaper industry. But I think that could end up happening," said Kiliaen Van Rensselaer, chief marketing officer for Skiff, which unveiled its elegant Skiff Reader this week.
"We're trying to show that consumers are willing to pay for content that's beautifully rendered ... and that offers convenience."
Since Amazon introduced the Kindle in 2007, a growing cult of book lovers has embraced it and rival products such as the Sony Reader and Barnes & Noble's Nook. Sales of e-readers doubled last year, and the Consumer Electronics Association, which stages CES, predicts they will double again in 2010.
How will you be reading your portable content a year from now?
Here's a closer look at four of the more intriguing e-readers announced at CES this week:
Plastic Logic Que
The Que, introduced Thursday, is a slender, lightweight device geared toward business professionals. The size and thickness of a pad of paper, the Que features a shatterproof plastic touchscreen that makes it lighter (it weighs just over a pound) than glass e-readers.

Video: E-readers all the rage at CES

Video: Going ga-ga for gadgets at CES

Video: Watch TV anywhere you go
Users can download books through the Que store or purchase content from dozens of partners such as USA Today, The Wall Street Journal, Forbes and The Atlantic -- although images that originally appeared in color will be displayed in black and white on the Que.
Apps for Windows and BlackBerry will allow customers to send e-mail or attachments to their Que for reading on the go.
"We're not trying to create the paperless office, but we do envision the paperless briefcase," product manager Anusha Nirmalananthan said.
Plastic Logic says a 4 GB model will have Wi-Fi capability and store up to 35,000 documents, while an 8 GB version will have Wi-Fi and 3G and hold up to 75,000 documents.
The devices will go on sale in April. Prices are $799 and $649.
Skiff Reader
The Skiff Reader is similar in size and weight to the Que, with an 11.5-inch-diagonal screen and a thickness of only about a quarter-inch. It's believed to be the first e-reader whose e-paper display is based on a thin, flexible sheet of stainless steel foil covered in thin plastic, which means it's not supposed to break if you drop it.
"It's the thinnest [e-reader]. It has the largest display of any e-reader that we know of. It's the most durable that we know of," Van Rensselaer said.
The Skiff Reader will run on a 3G network powered in the U.S. by Sprint. The device also will support Wi-Fi connectivity.
Newspaper and magazine articles will be refitted to appear on the Skiff Reader much as they did in print, with high-resolution photos, graphics and other design elements intact. Skiff is negotiating with as-yet-unnamed partners to offer content for the device.
Like many e-reader makers, Skiff also is developing a model with a color screen, although the technology for producing quality color e-paper -- as opposed to glassy LCD screens, which can be tough on the eyes after long periods -- is a ways off.
The Skiff Reader will go on sale later this year -- Skiff wouldn't say when -- in Sprint retail locations across the U.S. and on the wireless carrier's Web site. Pricing and additional distribution channels will be announced later.
EnTourage eDGe
No, those aren't typos -- that's how the Virginia-based EnTourage spells its company name and the name of its first e-reader, which will hit the market in February.
What sets the eDGe apart is its split personality: The clamshell-like device has an e-reader on its left side and a netbook on its right side. EnTourage is calling it "the world's first dualbook."
"It's not two devices. It's one device with two screens," said marketing assistant Annie Kotowicz, who demonstrated the gadget to passers-by at EnTourage's booth Thursday.
The two screens are synchronized, which means that if you want to look up an unfamiliar word on the e-reader, you can highlight it, and it will appear in a Google search field on the netbook's LCD screen. The netbook runs on Google's Android operating system.
Combined, the Wi-Fi-enabled device offers an array of services: digital reading, Web surfing, video watching and e-mail, thanks to a virtual keyboard.
EnTourage is pitching the eDGe to students as an educational tool and will launch the device with an e-book store offering textbooks, trade books and free public domain titles. The dual-nature gadget also will contain a microphone and a camera to help students record classroom lectures.
The eDGe weighs about three pounds, comes in five colors and will be priced at $490.
Blio
The most revolutionary e-reader experience unveiled at CES this week may not be a piece of hardware. A new software application called Blio, built in part by futurist-inventor Ray Kurzweil on a Microsoft platform, turns almost any laptop, netbook or smartphone into an image-rich electronic reader.
Blio uses publishers' original PDF files to preserve the format of books and magazines, including their layout, typesetting, colors and graphics. At the same time, it supports interactive multimedia, including video and Web links.
A read-aloud feature allows a computer voice to speak words as they are highlighted on the page, a potentially useful tool for young readers or the vision-impaired. Another Blio feature will allow users to translate to or from English in an embedded window.
Blio will be available as a free download in late February. Through a partnership with book distributor Baker & Taylor, the software will launch with an online store featuring more than 1.2 million titles -- from best-sellers to travel guides.
"We are striking deals with every publisher out there," said Baker & Taylor Senior Vice President Linda Gagnon. "There's not one publisher we've talked to who isn't over-the-top excited about this tool."