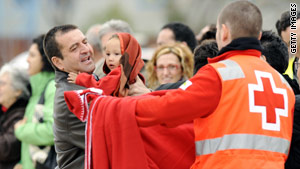 A Red Cross member at a Madrid airport January 12 hands blankets to arriving Spanish and Haitian earthquake survivors.
STORY HIGHLIGHTS
Red Cross text messages for Haiti raise an unprecedented $21 million

Campaign picked up steam on Facebook, Twitter and spread to other outlets

iPhone app developers band together to donate a day's proceeds to the cause

To donate, people can text the word "Haiti" to the number 90999
(CNN) -- A campaign using text messages to raise money for the Red Cross has tallied more than $21 million for relief efforts in Haiti.
The electronic fundraiser, boosted in its early days by widespread posting on social-networking sites like Facebook and Twitter, has outstripped the organization's expectations and is showing no signs of letting up, an official said Monday.
"It's blown me away and it continues to," said Wendy Harman, the director of social media for the Red Cross.
Harman said the campaign, which raised more than $3 million in its first 24 hours last week, had topped the $21 million mark by 11 p.m. Sunday.
The total has obliterated the nearly $4 million that, according to the Red Cross, was donated to all charities by mobile texts in 2009.
In all, the Red Cross had raised about $112 million for Haiti relief by 5 p.m. Monday, according to spokeswoman Abi Weaver.
Spurred in part by the text campaign, Red Cross fundraising for Haiti relief has started at a record pace.
In the first 48 hours of the campaign, the amount of money raised was greater than the Red Cross brought in during similar periods after Hurricane Katrina and the Asian tsunami disasters, Weaver said.

Video: Obama commends Red Cross
Harman said that widespread publicity in venues has spurred giving. The campaign has been touted by outlets ranging from traditional media to Sunday's broadcasts of NFL playoff games.
But it got rolling thanks largely to online social media, she said.
"I do think Facebook and Twitter were important in getting the word out in those first couple of days," she said. "It was such an easy thing to pass around for people who are on there all the time."
The text campaign highlights a spate of online and otherwise technology-related ways of giving to the Red Cross and others that have emerged in the wake of the Haitian earthquake.
Apple has added a page to its iTunes store that allows visitors to donate up to $50 to the Red Cross. Over the weekend, a group of applications developers for the iPhone and other smartphones banded together, pledging to donate at least one day's worth of revenue from their apps to Haiti relief.
People interested in donating to the organization may do so by texting the word "Haiti" to the number 90999. The user will receive a message in reply asking them to verify the donation, which will be added to their monthly phone bill.
By Monday, the presence the earthquake had last week on the micro-blogging site Twitter had faded.
Although Haiti-related topics had populated the site's list of most-popular topics, they had been bumped early Monday afternoon by several Martin Luther King Jr. Day conversations and chat about Sunday night's Golden Globes awards show.
The Red Cross has been active on Twitter since the California wildfires of 2007.
The organization also has accounts on Facebook, Flickr and YouTube as well as its own blog, and hosts an online newsroom that provides updates on the organization's disaster responses.