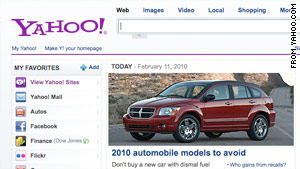 "Yahoo has been in search, is in search, and will be in search in the future," search chief Shashi Seth says.
STORY HIGHLIGHTS
Yahoo hosts event to talk about its commitment to searching Internet

Yahoo talks of strategy for organizing "a Web of things" as opposed to a Web of links

Sketch-a-search lets you draw a circle around an area of map to narrow search results

When Yahoo comes up with ideas, soon others duplicate them, columnist says
(CNET) -- The Rodney Dangerfield of search engines is starting to get a little annoyed about its plight.
Yahoo hosted a search event at its headquarters Wednesday that seemed designed mainly to remind the Silicon Valley press that it is still working on Internet search. A few new projects were shown off, such as an interesting mobile search feature that lets you draw a circle around an area of a map to narrow search results called Sketch-a-search.
But the vast majority of the morning's event -- led by new search chief Shashi Seth -- was a reiteration of Yahoo's strategy for organizing "a Web of things" as opposed to a Web of links, with the implication that rival Google is only good at returning a sea of links.
The company also hoped to correct what it feels are ongoing misconceptions about its role following its pending move to outsource back-end search to Microsoft's Bing division.
"Yahoo has been in search, is in search, and will be in search in the future," Seth said, right after the power died in the room where Yahoo was speaking to about 30 members of the press, forcing him to work without Powerpoint for about 15 minutes.
Last October, David Pann, vice president and general manager of search marketing at Yahoo, said almost the exact same thing: "With all of the events that Yahoo has gone through in the last several months, one of the questions I get is: 'Does Yahoo still care about search?' The answer is: absolutely."
However, Yahoo's commitment to search faces many tests. Its market share is dropping as it walks away from toolbar and PC desktop search deals it considers unprofitable, Seth acknowledged.
Even though Yahoo has been talking up its search strategy for almost a year, and even if you factor out the toolbar deals, Yahoo has lost share; although Seth said "I think we may have seen very little of that (organic share loss)."
And even when Yahoo's engineers -- now focused almost exclusively on improving the search experience for its users -- come up with a breakthrough idea, it doesn't take long for Google and Microsoft to duplicate that effort. Yahoo engineers can dismiss those efforts as inferior copies, but if the general public never saw the original, does it matter?
This is perhaps the key problem for Yahoo search in 2010. The general public has long stopped thinking of Yahoo as a search vehicle. That distinction belongs to the company whose name has become a verb meaning "to search for information on the Internet."
Around 80 percent of all searches on Yahoo are conducted by people who are on one of Yahoo's other Web pages, such as the home page or e-mail inbox, according to the company.
That's an awfully large number of people, to be sure, but means that few people come to Yahoo with the intention to search for something. Instead, they come to Yahoo for someone else and if intrigued by the content, search for something else.
Yet despite growing interest in Yahoo's news and entertainment pages, increased use of its e-mail service, and interesting advances in search technology, more people aren't searching on Yahoo than a year ago.
The frustration is evident at Yahoo: particularly when they feel they have to explain for the 53rd time that the Microsoft deal is limited to the back-end indexing and ranking technology, and when Google can completely steal their thunder with an announcement that has absolutely nothing to do with search.
It will take a few "wins" for Yahoo to regain respect, said Larry Cornett, vice president of consumer products at search. Cornett is an Apple veteran from "the dark years" before Steve Jobs returned to the company, he said. At that time, people had lost confidence in Apple and didn't think much of its future.
But, Jobs returned. Apple started to get those wins, Cornett said, referring to things like the iMac and iTunes. "And now Apple can do no wrong," he said.
Cornett believes the same thing can happen at Yahoo. Prabhakar Raghavan, head of Yahoo Labs, thinks Yahoo's work on enhancing search results will start to pay off as the company extends that technology from the most-visited search results into more niche results.
The top 10,000 search results on Yahoo satisfy two-thirds of the queries, but users as individuals aren't satisfied with a search experience unless it meets their unique needs, he said.
Right now, only around 15 percent to 20 percent of Yahoo search results get the specialized treatment that Yahoo shows off in events such as the one on Wednesday. That number needs to be more like 90 percent, Raghavan said.
While even Google likes to point out (when dodging government regulators) that switching search engines is a simple task, breaking ingrained habits is a far more difficult undertaking.
Yahoo can complain about a lack of respect all it wants, but it needs to make a search breakthrough that's an order of magnitude beyond anything Google or Microsoft are doing to change those habits.
When the second-largest Internet search organization in the world feels it has call a press conference to simply remind the world of its presence, it's evident that those major breakthroughs are a long way off.