STORY HIGHLIGHTS
TiVo Premiere adds Internet, music, movies to popular digital recorders

Never been so easy to get all your entertainment in one place, TiVo spokesman said

Boxes will cost $299 or $499 and be on sale in April, company says

Box similar to Boxee and Roku, cubes by smaller companies that blend Web and TV

(CNN) -- TiVo subscribers will be able to pull Internet content, music and movies onto their televisions more easily with new devices the digital-video recorder company announced Tuesday.
Called TiVo Premiere, the boxes boast Web-connected capabilities similar to what rival manufacturers, such as Boxee and Roku, have unveiled. TiVo hopes the devices will help the pioneering DVR company shore up a slipping subscriber base by catching up with how digital-era consumers increasingly seek out entertainment.
"It has never been this easy to get all of your entertainment in one place, on the big screen, in HD, right at your fingertips," TiVo President and CEO Tom Rogers said.
The new boxes, which will be available in early April, will combine access to digital cable television, movies, videos on the Web and music, including a planned app from Pandora online radio.
The TiVo Premiere, which will sell for $299, will have 320 gigabytes of storage and record up to 45 hours of high-definition programming or 400 hours of standard-definition fare.
The TiVo Premiere XL, retailing at $499, will have a terabyte of storage and will be capable of recording up to 150 hours in HD or 1,350 hours of standard-definition.
A new search function will let users browse for shows from premium cable channels and offer a new interface for broadband sources like Netflix, Blockbuster On Demand and Amazon, according to a release from TiVo.
"It's the one box that can give you access to almost anything you want, whenever you want it," Rogers said. "We've taken millions of pieces of content and organized it for you in a way that makes so much sense, you'll wonder how you ever lived without it."
The news release by TiVo took a cue from the "Lord of the Rings" franchise, calling the Premiere "the one box to rule them all."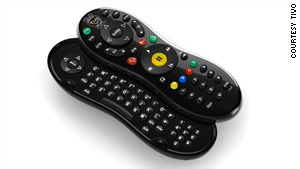 The Tivo Premiere remote will feature a slide-out keyboard.
The box will come with a Bluetooth-equipped remote with a slide-out keyboard that's able to operate the box from up to 30 feet away, according to the company.
Premiere's user interface will not operate on existing TiVo boxes, a company spokeswoman said.
TiVo's announcement comes on the heels of other developers rolling out similar products that meld online content with TV.
The Boxee Box, a cubelike device that shares Internet content with your TV, was awarded the title of "Last Gadget Standing" at January's Consumer Electronics Show in Las Vegas.
The Boxee Box lets users search and store Web content and either play it on television or share it on social-networking sites. The device, expected to hit the market in late spring and cost about $200, also features a keyboard in its remote control.
"It's truly a game-changer," said Boxee spokesman Andrew Kippen, who presented the device during the lighthearted "American Idol" style contest. "We're really bringing the creativity of the Web onto your TV screen."
California-based company Roku has also rolled out a digital video player that integrates television, Web content and a video library. It retails for about $100.
But TiVo, with its existing customer base, is no doubt looking to parlay its higher profile into becoming the market leader while revitalizing subscription numbers hit hard by increased competition in recent years.
Founded in 1997, TiVo developed the first commercially available DVR. Its brand name became virtually synonymous with digital recorders and became a commonly used digital-age verb, much like "Google" and "blog."
But amid a tight economy and competition from cable and online rivals, its membership has dipped of late.
In the fiscal quarter that ended October 31, TiVo had about 2.7 million subscribers. That's down from more than 3.4 million subscriptions the previous year.