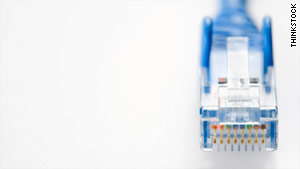 The FCC says that a lack of high-speed Internet access in U.S. homes is a detriment to economic growth.
STORY HIGHLIGHTS
The plan aims to get 90 percent of Americans on high-speed connections by 2020

The government plans to put one "ultra-high-speed" connection in every community

The FCC says faster Internet connections will create jobs

Agency will release its entire proposal at a meeting Tuesday

(CNN) -- Sick of slow Internet connections? The federal government hears you.
The U.S. Federal Communications Commission on Monday unveiled some details of its broadband plan, which aims to speed up Web connections and make high-speed Internet available to more Americans.
The commission plans to use educational programs and an expansion of broadband Internet infrastructure to give 90 percent of Americans high-speed Internet access at home by 2020.
Currently, only 65 percent of Americans have high-speed Internet access at home, which the FCC says is a detriment to economic growth. The proposal will make the U.S. "the world's largest market of high-speed broadband users" and will create jobs, the FCC says in a news release.
The plan would also lower health care costs and improve home energy efficiency by making information available digitally, the FCC says.
Other details of the plan remain unclear. The FCC will release its entire proposal at a meeting Tuesday.
The FCC also wants to speed up overall connections, which are often criticized as slow by global standards.
Its goal is to give 100 million households access to Internet connections that transfer 100 megabits of data per second.
The average U.S. Internet speed today is much slower -- only 3.9 megabits per second, according to the Internet monitor Akamai.
The U.S. has only the 18th fastest Internet connections in the world, behind countries like South Korea, which leads the world with 14.6 megabit-per-second data transfer rates, Akamai says.
One rural town's broadband battle

Video: Boosting broadband
Each community in America also will get access to at least one "ultra-high-speed" connection at a library, school or military base. Those connections will reach speeds of 1 gigabit per second, the FCC said in the news release.
The country's broadband plan was required as part of President Obama's 2009 American Recovery and Reinvestment Act, which allocated $7.2 billion to broadband-related initiatives.
The FCC's upcoming broadband plan will be "revenue neutral," according to an executive summary of the plan released Monday. The FCC will auction off 500 megahertz of spectrum to pay for some expenses, such as extending broadband networks to rural areas.
Other programs will be paid for with improved efficiencies, the FCC said.
The plan has been delayed, and it is criticized by some as doing too little.
Speaking at South by Southwest Interactive, a technology conference in Austin, Texas, Derek Turner, the research director for the nonprofit group Free Press, said the broadband plan does not do enough to reduce the cost of high-speed Internet connections, which he said is the biggest barrier to adoption.
Still, he said, he is hopeful that the federal government can address the issue.
"I'm actually very hopeful for some positive outcomes," he said at the conference, "because I've seen stranger things happen in Washington."
FCC Chairman Julius Genachowski framed the plan as a boost for the economy.
"The National Broadband Plan is a 21st century roadmap to spur economic growth and investment, create jobs, educate our children, protect our citizens, and engage in our democracy," he said in an FCC news release.
"It's an action plan, and action is necessary to meet the challenges of global competitiveness, and harness the power of broadband to help address so many vital national issues."
The plan places some emphasis on the mobile Internet and indicates that the U.S. wants to be a leader in that emerging space.
CNN's Doug Gross contributed to this report.