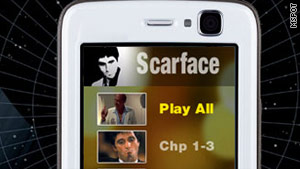 Companies such as Mspot are making big moves to get movies onto smartphones.
STORY HIGHLIGHTS
Companies are making big moves to bring movies to smartphones

Blockbuster, News Corp. are among big players getting into the market

Different apps take different approaches -- downloading vs. streaming

Each company will vary on movies they offer based on deals with studios
(Wired) -- Video rental companies made big moves this week in the race to deliver movies to phones.
But as compelling as thought of a movie in your pocket alone may be, this isn't just about delivering content to handset.
The companies vying for your mobile movie dollars want to tie you to an ecosystem they hope will change your habits -- and loyalties -- at home, at work and in between.
Big names like Blockbuster and News Corp. announced new initiatives at the CTIA conference in Las Vegas, and so did lesser-known player mSpot, originally a ringtone company that's looking for new revenue sources as the ringtone market declines.
All of them believe that owning mobile is a ticket to winning the other three screens -- computers, televisions and tablets -- because viewers want to pick up on one screen where they left off on another, just as they do when reading an Amazon Kindle e-book.
If they are right, the battle plan seems fairly clear: Winning the smartphone puts everything into play and makes the mobile device the key entry point to a video-on-demand lifestyle, way beyond its mundane ability to manage rental queues on the go.
As to download versus stream? Either approach has its advantages and drawbacks. Streaming offers immediate playback -- when it's available, and it is unavailable without a decent data connection. Downloading ensures a seamless experience, but there is that wait ...
Blockbuster, once known for its Walmart-like effect on mom-and-pop video stores, is now just one of many up-and-comers in the digital-delivery space.
The company recently launched an Internet-based video-on-demand service to augment its disc-based services (a disc-by-mail service, a dwindling number of retail stores and Blu-ray- and DVD-burning kiosks that interface with location-aware mobile apps so you can have movies custom-burned at a nearby store).
It extended that approach to thephone this week with the launch of Blockbuster Movie Store, a rental-and-purchase app for the T-Mobile HTC HD2, and eventually other smartphones.
Not to be outdone, News Corp.'s Fox Mobile Group announced its own television and movie streaming and downloading app called Bitbop for iPhone, Droid and Blackberry that will charge a $10 monthly subscription fee, as opposed to the single-film fees proposed by mSpot and Blockbuster.
We let the executives behind opposing forces in the "movie phone" battle -- Daren Tsui, CEO of the streaming-only mSpot and Scott Levine, the vice president in charge of Blockbuster's download-only app -- duke it out in a pair of interviews with Wired.com.
Here's how they stack up on the major issues facing the delivery of movies to phones, leaving aside for the moment contractual squabbling with the studios, which is a whole different ball of wax.
Lag Time
Streaming clearly wins in terms of the amount of time you'll have to wait before a movie starts playing on your phone.
"There's no pre-planning," said Tsui, "which differentiates mSpot from Blockbuster's wireless downloads and iTunes cable-required downloads."
Blockbuster has one trick up its sleeve for addressing this, to an extent: You can schedule downloads via 3G and your phone will suck them down the next time it's on Wi-Fi better than Apple's solution, but not as immediate as mSpot's.
Watching Anywhere
Blockbuster's download approach wins this round, because once a movie is loaded onto your phone, you can view it without a data connection. MSpot's Tsui told us he went the other way in part because focus groups revealed that people worry about storing large files on their phones. "They actually think that the more music or movies you put on your phone, the slower your phone will get," he said. "Not true, but regardless, that is the perception."
However, Tsui conceded that streaming's connection requirement is a drawback. MSpot plans to add a caching feature for storing movies on phones by the fourth quarter of this year. "The preferred way to cache is OTA, over-the-air," he said. "We will pre-fetch more and faster when you're on Wi-Fi, and when you're on 3G, we will pre-fetch less and slower, and we will offer a USB solution [too]."
For now, Blockbuster's wireless download approach (and iTunes' "cable required" one) win this battle.
"Streaming these types of movies over 3G is going to end up with a poor-quality experience," said Blockbuster's Levine. "In addition, almost all the carriers won't let you do it ... think about what would happen to their data network ... our view is that these devices are on-the-go."
Video Quality
Although cell phone screens are too small for the HD formats used by larger screens, their screens are improving, and some phones ship with optional (and eventually integrated) projectors for displaying a movie on a wall.
In addition, the same mobile movie services being developed for phones will extend to tablets such as the Apple iPad, which will require higher bit rates to ensure quality.
In order to avoid dropouts, streaming services vary their bit rates, which is why they generally keep up to 20 versions of a given movie on file, each encoded at a different bit rate. Tsui said mSpot keeps at least 18 versions of every movie for instance, and if your connection is slow, streaming video can drop to a lower quality, even with mSpot's up-to-five-minute buffer.
MSpot plans to release an iPhone app with access to a wide range ofmovies in the third quarter; for now, it prides itself on reaching 40 million other handsets in the United States. Downloads, on the other hand, can look as good as a phone or tablet has space for, making it more attractive on the larger, higher-resolution screens likely to be favored by movie buffs.
Blockbuster's Levine claims video quality matters more on its launch partner T-Mobile's HTC HD2, which has a 23 percent larger screen and a much higher resolution (480 x 800) than the iPhone (320 x 480).
Starting Where You Left Off
Both executives agreed that viewers should be able to switch between screens without losing their place in a movie, but it's a bit trickier with downloads than it is with streaming. Levine said Blockbuster will in a month or two add the ability to start watching on one device from right where you left off on another, but mSpot already has this feature, because its streaming server knows when you stopped watching something.
Download services will have a harder time managing seamless playback on multiple devices, but Blockbuster says such a thing is possible with a little extra development, which brings us to phone compatibility issues.
Phone Compatibility
MSpot's service is available on over 50 handsets on AT&T, T-Mobile, Sprint and Verizon, due in part to its ringtones and music legacy. "[One] way, in our opinion, to win mobile is to support a broader range of handsets, because as successful as the iPhone is, [it has] less than five percent market share [in the United States]," adding that with all the carriers and devices out there, it helps to have experience in the mobile market.
Mobile movie-download services, on the other hand, require a higher degree of customization for each device because the movies have to be stored on the phone, and various models handle that differently.
This could be why Blockbuster is only rolling its movie service out on a single phone. Levine said the company will look to introduce Blockbuster Movie Store on Motorola smartphones later in 2010, but that will require the development of a custom app capable of storing content locally. When it comes to device compatibility, streaming services like mSpot have the edge.
Movies on the iPad and Other Tablets
Tablets are shaping up to be smartphones with bigger screens, making them a natural place to watch movies. Tsui says mSpot's movie rental service will be available on "day one" when the iPad rolls out, because all it has to prepare is boost the bit rate through the same iPhone app it already has today.
He said mSpot is also talking to Intel Atom and Qualcomm SnapDragon about integrating into more tablets and mobile Internet devices.
Fox Mobile Group's Bitbop, in private beta, will allow on-demand streaming or downloading to a variety of smartphones via Wi-Fi or 3G, according to its Web site, with content provided by Fox and its partners.
When asked about Blockbuster's tablet strategy, Levine said the company is interested in renting on all screens eventually, but that it is happy with its HTC relationship for portable devices and its Samsung and TiVo relationships in the home. More interestingly, he responded that Blockbuster plans to roll out movies on an unspecified Motorola device and on the company's phones later this year.
After hearing both executives defend their company's approach to movie phones, we conclude that the answer is somewhere in the middle: a streaming-capable service that also lets you cache and download movies on your devices when it makes sense, ideally through a mix of cellular, Wi-Fi and USB connections.
That leaves only the matter of content, and the services differ a great deal in that regard, due to the complex world of movie licensing, which leads us to a final central issue.
One Movie App to Rule Them All?
These movie phone services vary so much in terms of delivery, device support and especially catalog, that consumers would benefit greatly from each of them developing an open API so third-party developers could create one application to let you rent from any of them, depending on where you are, what device(s) you use and -- especially -- which films you want to watch.
The main problem: Each mobile movie service (Blockbuster, iTunes, mSpot, News Corp.'s Bitbop, and eventually Amazon, Netflix and others) offers just a subset of what's available due to their deals with the various studios (for example, mSpot currently lacks Warner Bros. movies, while Blockbuster has them).
Time is a factor too, even when multiple services have deals with the same studio. One service might have permission to show a given movie during the video-on-demand window, which happens right after the theatrical release, while another might have to wait for the subsequent DVD window.
Given the ferocious way this battle is likely to play out, however, that sort of cooperation could be just a dream, even though it would provide a more compelling user experience than installing 10 or so movie apps and trying to figure out which one has permission to show what you want to watch.
Subscribe to WIRED magazine for less than $1 an issue and get a FREE GIFT! Click here!
Copyright 2011 Wired.com.
FOLLOW THIS TOPIC