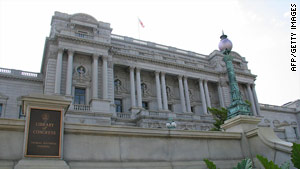 The Library of Congress announced Wednesday that tweets will be archived digitally.
STORY HIGHLIGHTS
The Library of Congress will archive every public post on Twitter ever

Archive will include billions of posts in 140 characters or less -- some 55 million per day

Famous tweets include co-founder's first, Barack Obama's post-election note

Library of Congress has been archiving Web content since 2000
(CNN) -- Every 140-character snippet of info you've ever shared publicly on Twitter will soon have a home next to the Declaration of Independence.
Twitter and the Library of Congress announced Wednesday that every public tweet posted since Twitter started in 2006 will be archived digitally by the federal library.
The purpose, according to a blog post by Library of Congress communications director Matt Raymond, is to document "important tweets" as well as gather information about the way we live through the sheer masses of tweets on the site.
"I'm no Ph.D., but it boggles my mind to think what we might be able to learn about ourselves and the world around us from this wealth of data," Raymond said in the post. And I'm certain we'll learn things that none of us now can even possibly conceive."
Twitter says it receives about 55 million tweets every day -- amounting to billions of them since its inception.
Only tweets from public Twitter feeds will be included, not those that have been set as private.
For that reason, one expert didn't think the move would raise huge concerns among privacy activists.
"Twitter was always designed to be public," said John Verdi, senior counsel at the Electronic Privacy Information Center in Washington. "And I think folks understand that whatever they post on Twitter is meant to be searchable. So I don't see a big issue here."
Verdi said he would feel differently if the federal government seeks to identify users through their tweets or to match Twitter users with other information about citizens that is stored in federal databases.
Examples of notable tweets the library cited Wednesday include the first-ever tweet from Twitter co-founder Jack Dorsey, the tweet on Barack Obama's account after he won the 2008 election and a pair of tweets from a photojournalist who was arrested in Egypt, then freed after a series of events stemming from his use of the micro-blogging site.
"It's very exciting that tweets are becoming part of history," Twitter said Wednesday on its official blog. "The open exchange of information can have a positive global impact. This is something we firmly believe and it has driven many of our decisions regarding openness."
The announcement came during Twitter's first Chirp conference for developers.
It's a busy news time for the site, which saw massive growth in early 2009 and, according to co-founder Biz Stone, now has more than 105 million registered accounts.
Also Wednesday, Google announced it will soon allow users to search Twitter's entire database, pulling up what was being said about a particular topic at a particular time.
And Tuesday, Twitter rolled out its much-anticipated advertising platform, a plan that will let advertisers pay to have their tweets appear at the top of searches.
Far from being just a depository for old paper documents -- like a rough draft of the Declaration of Independence and a Gutenberg Bible -- the Library of Congress has been compiling information from the Internet for years.
According to Raymond, the library houses more than 167 terabytes of Web-based information, including legal blogs, Web sites of candidates for national office, and Web sites of members of Congress, collected since 2000.
On Wednesday afternoon Twitter users already were responding, sometimes comedically, to the news.
"I'd like to thank the Library of Congress for proving my graduating class wrong when they said I was least likely to ever be found in one," wrote blogger Ruth Akers.
CNN.com's Brandon Griggs contributed to this story.