Israel reverses its iPad ban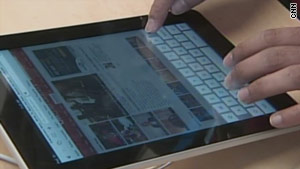 Visitors to Israel can once again bring their iPads into the country without fear of confiscation.
STORY HIGHLIGHTS
Israeli authorities lifted its ban on Apple's iPads

Custom officials confiscated tablet computers of those entering Israel

Government complained the iPad did not meet Israeli, European Wi-Fi standards

Jerusalem (CNN) -- Israel has reversed a ban on the iPad, Apple's tablet computer, and said users can bring in the device without worrying that customs officials will seize it.
The country's communications ministry said it reached its decision after completing "intensive technical scrutiny."
"The scrutiny conducted by the ministry technical team vis-a-vis Apple's team, International laboratory and European counterparts confirmed that the device which could be operated in various standards will be operated in Israel in accordance to the local standards," the communications ministry said Saturday evening.
In the past two weeks, Israelis and tourists entering the country at Ben Gurion Airport have had their iPads taken by customs officials.
Israeli authorities said the devices' Wi-Fi standard does not match Israel's standard, which is also used in Europe.
At the time, Yechiel Shavi, spokesman for the ministry, said the ban only applied to iPads built for the American standard but would not apply to devices that match the European specifications.
Tech-savvy Israelis are known for grabbing up the latest high-tech consumer goods, including Apple's iPhone, which became a must-have item when it was released in Israel in the last year.
The ban was lifted after criticism from Israeli computer users. Government officials also contacted the communications ministry to get the ban reversed.