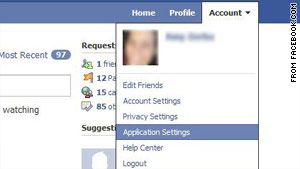 Facebook's new settings have pushed traffic to participating sites, but have privacy advocates concerned.
STORY HIGHLIGHTS
Privacy advocates are concerned about Facebook's efforts to spread across the Web

Facebook's social plug-ins have led to more referrals to sites like Washington Post, IMDB

A security hole at partner site Yelp was latest episode to raise privacy concerns

Poll: Facebook's popularity is climbing with young people but slipping with the older crowd
(CNET) -- Facebook's latest modifications make it pretty clear that the company is eager to spread its brand even further across the Web -- and that's left some privacy advocates a little freaked out as they look at the vast amount of personal information that Facebook has on hand.
But Facebook, of course, maintains that this is all ultimately good for the Internet and everyone on it, and that it's in everyone's best interest to jump on board:A post Tuesday on the Facebook developer blog explains that the new "social plug-ins" are now implemented on over 100,000 sites, and that they work.
Social plug-ins were one of Facebook's big announcements at F8, the developer conference that the social network held last month.
They take its existing Facebook Connect product a few steps further by bringing users' Facebook friends lists to external sites and showing them their friends' activity. A news site, for example, could show which stories your Facebook contacts have been recommending and commenting on.
CNN.com is one of several dozen sites that partner with Facebook to display and share users' interests.
Facebook says the Amazon-owned Internet Movie Database has seen referral traffic from Facebook double after it started putting Facebook "like" buttons on individual pages in its entertainment directory so that members can easily share their favorite movies and TV shows on their profiles; more than 350,000 "likes" have been pushed to Facebook through IMDB.
For news sites, Facebook reports that its referral traffic has increased 290 percent for the Washington Post and 250 percent for ABC News.
"We think the story behind these stats is more important than the stats themselves. As we've found on Facebook, people share, read, and generally engage more with any type of content when it's surfaced through friends and people they know and trust," the post by Facebook developer representative Justin Osofsky read.
"We're bringing activities that have been social in the offline world, such as sharing news, reviews, and sports enthusiasm, and giving sites a way for their users to experience their content with friends."
Unfortunately, though these numbers are a bright spot for potential partners, they don't do much for irritated users who say that Facebook is more or less toying with their personal information.
And the bad press, too, continues to roll in. Earlier on Tuesday, news broke that there was asecurity hole in Yelp -- one of the test partners in Facebook's "Instant Personalization" program -- that put Facebook user data at risk.
The "Instant Personalization" program takes Facebook's social plug-ins even further by automatically importing Facebook profile information to third-party partners. Yelp says it's fixed the hole.
This adds to two Facebook-related security holes that surfaced last week, in which there were likely no malicious intentions but which didn't help already-concerned Facebook users from wondering just how safe their data is on a site that repeatedly modifies its privacy policies and has had a well-documented recent history of security flaws and phishing scams.
And one polling firm, YouGov, says that Facebook may want to start getting concerned about its brand image -- at least where adults are concerned.
The firm's BrandIndex service surveyed two slices of the U.S. population, adults 18 to 34 and those over 35, to discover if their perception of the Facebook brand has grown more positive or negative over the past few weeks and rating the results on a scale of -100 to 100. While Facebook's stock appears to be rising in the younger demographic, climbing from 32.8 to 44.8 since March 24, in the older one it's slid from 26.7 to 21.2.
It's been nearly three weeks since the F8 conference, when Facebook started rolling out the litany of announcements that have gathered so much criticism since.
And while the latest word from Facebook is that the company has entered into a dialogue with lawmakers regarding Capitol Hill's concerns about how much information it shares with third parties, the threat of legal action in addition to user backlash remains on the table.
© 2010 CBS Interactive Inc. All rights reserved. CNET, CNET.com and the CNET logo are registered trademarks of CBS Interactive Inc. Used by permission.