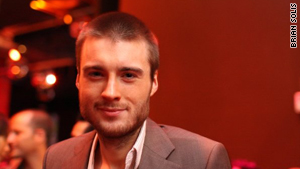 Pete Cashmore says Google's Android platform is poised to overtake Apple's mobile operating system.
STORY HIGHLIGHTS
Mashable's Pete Cashmore says Google is going to overtake Apple in mobile

The companies have competing mobile operating systems

Google's Android platform has positioned itself as the more "open" model

That has won over some developers, and sales are starting to reflect the trend
Pete Cashmore is founder and CEO of Mashable, a popular blog about social media. He writes a weekly column about social networking and technology for CNN.com.
London, England (CNN) -- Did Google just turn the tables on Apple?
Having entered the mobile software market late with its Android offering, Google's initial efforts were a pale imitation of the iPhone OS, a clunky user experience on sub-par handsets. Fast forward to 2010. Suddenly, Google Android is winning over the hearts and minds of technologists and signing up 100,000 converts a day.
That raises the question: Is the iPhone losing its sheen?
Android edges ahead
The changing of the guard was signaled earlier this month: Stats released by market research firm NPD showed that Android phones had outsold iPhones in the first quarter of 2010. Google's operating system accounted for 28 percent of U.S. smartphone sales, versus 21 percent for the iPhone OS. RIM retained the lead, however: BlackBerry phones captured 36 percent of the market.
What turned the tide? NPD attributes the change to the success of the Motorola Droid and Droid Eris. Finally, Android is being coupled with appealing handsets, driving mainstream adoption.
Globally, the iPhone retains its lead, however: Apple commands 46 percent of the market, versus Android's 25 percent.
Apple vs. Microsoft: Round 2
Google must surely hope the mobile race has the same ending as the original operating system wars: Microsoft versus Apple.
While Apple insisted on running its Mac OS on Apple hardware, Microsoft implemented no such restrictions and chose to license its software to hardware vendors instead.
We all know how that story ended. Windows became ubiquitous; Macs were marginalized.
Android, too, seems to be headed toward ubiquity. Google's usurping of Apple in the mobile market had little to do with its own handset -- the much-maligned Nexus One -- and instead can be credited to the breakout success of Motorola's offerings.
Samsung, meanwhile, has committed to running 50 percent of its handsets on the Android OS. Google must now learn its lesson: Stay out of the hardware business and let others build spectacular Android handsets.
Developers jump ship?
There's another reason the iPhone is losing its edge. Developers may be switching to Android.
The iPhone's appeal is in large part tied to the hundreds of thousands of applications available in the App Store. But Apple's controlling nature has frustrated developers. Its esoteric App Store rules mean that applications can be rejected for all manner of reasons, creating a strong disincentive to develop on the platform.
Apple has earned enemies, too, in its battle against Adobe Flash. By essentially banning Flash from the iPhone, Apple has provided fuel to critics who say the iPhone is a "closed" platform: You can play in Apple's sandbox, but only if you abide by their rules. The rules, it seems, become stricter every day.
No wonder, then, that Google's I/O conference this week hinged around one word: "open." Developers audibly cheered, writes Mashable's Jolie O'Dell, as Google execs presented their latest creation, Android Froyo.
To the delight of developers in attendance, Froyo supports Flash. Vic Gundotra, Google's vice president of engineering, received enthusiastic applause as he quipped: "It turns out that on the Internet, people use Flash."
Amid the applause, there was laughter, too. A rebellion against Apple's encumbered system.
Apple is losing on two fronts
Apple is fighting two wars and losing both.
It's losing in the fight for market share. With Android shipping on a myriad of phones and Apple's growth limited to its own devices, Google seems destined to win the numbers game.
By providing more fertile ground for developers, meanwhile, Google is winning the hearts and minds of app makers. Google's mastery of the mobile space appears imminent.
Apple strikes back?
Apple, however, could still play a winning hand. The fourth-generation iPhone is expected to launch next month at WWDC, the Apple developer conference.
While we'll no doubt see a spike in iPhone sales and a short-term reversal in market share versus Android, I doubt the launch will prove an adequate defense against Android's rise.
One factor may stem the tide, however. Rumors persist that the iPhone may soon be available to Verizon customers. If the mutterings prove true, Apple may regain those customers who abandoned its phones for a reason unrelated to the software, notoriously poor service from Apple's exclusive partner, AT&T.
Android, then, seems equipped to win the mobile OS wars. But hold off on the parade. Google's victory is far from guaranteed.