What gamers won't see at E3 this week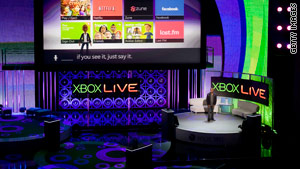 The Electronic Entertainment Expo acts as a launch pad for many of the gaming industry's biggest announcements.
STORY HIGHLIGHTS
The Electronic Entertainment Expo acts as a launch pad for many exciting announcements
You can experience many big gaming trends without having to crash E3
Games for social networks, draw millions of players; broadening appeal of gaming
Los Angeles, California (CNN) -- The gaming world is mesmerized this week by the Electronic Entertainment Expo (E3), the annual circus of light and sound that acts as a launch pad for many of the industry's most exciting announcements.
But for the first time since the show's inception in 1995, the event will be notable more for what it lacks than features.
Thousands are crowding the Los Angeles Convention Center for glimpses at Sony's PlayStation Move, Microsoft's Kinect, Nintendo's 3DS handheld, plus sneak peeks at the hottest titles of 2010 and 2011, such as "Gears of War 3," "Civilization V" and "Fallout: New Vegas."
But the show remains clearly focused on huge retail sellers in a world where digital solutions are irrevocably transforming the concept of interactive entertainment. Far more exciting than any "Halo" or "Call of Duty" sequel are trends you can already observe without having to crash the conference -- or even get off the couch.
Consider phenomenon such as games for social networks, which aren't just drawing players by the tens of millions, but also broadening the field's appeal to nontraditional audiences like women and seniors. Downloadable games (cost-affordable, bite-sized outings retrievable on-demand to PC, console or portable systems) are growing increasingly prominent, offering a more budget-friendly, less time-consuming way to zone out.
Thousands of free-to-play and online Web browser-based games are reshaping the field too, causing value-conscious shoppers to question whether traditional 40-hour, $60 blockbusters are truly smart buys. Cloud computing services such as those offered by OnLive and Gaikai, which promise to stream cutting-edge games to even low-end devices over a high-speed internet connection, will soon call console hardware's very existence into question.
Downloadable content (aka DLC, or new levels, maps and missions digitally delivered to your TV or desktop) further hints at a future where what you buy in a box is just the beginning, not end, of the adventure. Then there's the panoply of thumb-waggling apps available for smartphones and mobile devices, which are empowering legions of bedroom coders to push the bar for creativity further than traditional game-makers could ever afford.
From augmented reality amusements to advance looks at anticipated titles like "Portal 2" and "God of War: Ghost of Sparta," E3 2010 will undoubtedly offer its fair share of wonders.
But the good news for video game fans, especially those who can't make it behind the velvet rope, is that they're simply the tip of the proverbial iceberg.
In short, don't feel too heartbroken if you can't make the convention. It may get the lion's share of media attention, but there are plenty of other exciting new developments happening out there to discover without having to hop a cross-country flight or test the boundaries of sleep deprivation.
FOLLOW THIS TOPIC