Apple Game Center: the Facebook of mobile gaming?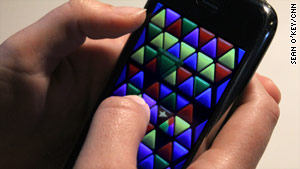 Game Center is a social network that can help smartphone users instantly connect with gaming opponents.
STORY HIGHLIGHTS
Game Center is a mobile social network that can instantly find and connect with opponents

Game Center will have global high score boards to compete on

Game Center is planned to launch with a future iOS 4 update for iPhone and iPad

Games for iPhone, iPod Touch and iPad tend to be less advanced than a PSP or DSi XL
Editor's note: Scott Steinberg is the head of technology and video game consulting firm TechSavvy Global, as well as the founder of GameExec magazine and Game Industry TV. He frequently appears as an on-air technology analyst for ABC, CBS, NBC, FOX and CNN. His most recent book is "Get Rich Playing Games."
(CNN) -- Gamers looking to quickly hop online and score permanent bragging rights typically turn to set-top multiplayer services like Xbox Live and PlayStation Network.
But now, Apple is stealing a page from the competition's playbook with Game Center, a social network for smartphone users that helps you instantly find and connect with opponents anytime, anywhere -- and offers global high score boards to compete on.
"We've seen this sort of thing on consoles for years, but never on a phone, and that's revolutionary," says Daniel Bernstein, CEO of Sandlot Games, publisher of celebrated franchises "Cake Mania" and "Tradewinds."
"People will soon be able to play more types of games than ever before, from social titles like 'FarmVille' to multiplayer games to those supporting trophies and ranking ladders."
Consider it the Facebook of mobile gaming. Planned to launch with a future iOS 4 update for iPhone and iPad, users can set up and browse profiles, issue friends invites to play and enjoy mobile multiplayer matches wherever the urge strikes.
"It's like dining in vs. takeout," explains game developer Steve Demeter, creator of popular puzzler "Trism." "Because Game Center's meant for a mobile device... you'll be more in touch with friends in games [and] have more ways to make new friends, helping make the community a real thriving thing."
Collectible achievements -- virtual badges earned for completing challenges (e.g. collecting rare items or killing 100 enemies) -- should also provide long-term incentive to stay in the game.
Not that your DSi XL or PSP is headed for extinction anytime soon: Games for the iPhone, iPod Touch and iPad tend to be less sophisticated, with puzzles and arcade outings more common than first-person shooters or sprawling role-playing adventures.
Competing multiplayer services like OpenFeint and Plus+ may also undermine Game Center's appeal, while Apple's inexperience in game design could result in missing features, undercooked user functionality or myriad technical hiccups.
But by offering a one-stop solution for mobile multiplayer networking, the inside word is that the service will ultimately let developers spend less time programming, more designing new and innovative games.
"Apple's finally getting serious about being a player in the gaming industry," says Pangea Software CEO Brian Greenstone, who says the technical support and software upgrades it could offer developers may lead to new breakthroughs. "Once they add buttons and a gamepad to the iPhone/iPad, it could be a DS or PSP killer."
FOLLOW THIS TOPIC