STORY HIGHLIGHTS
The advent of the iPad has brought forth more interest in digital comics

Major publishers Marvel and DC have begun testing the digital waters

Observers agree that digital is here to stay

Retailers are wary but cautiously optimistic as to what it means
(CNN) -- In just a few short months, Apple's iPad has become a popular mobile tool for web surfing, watching TV and reading electronic books. But its biggest impact may come in a lesser-known area of multimedia: digital comics.
The best-selling "Scott Pilgrim" graphic novel series was released this week on the ComiXology iPad app to coincide with Friday's release of the movie, "Scott Pilgrim vs. the World." Many more iPad comic-book titles are expected soon.
Industry observers say the iPad's size, portability and color screen make it a good fit for reading comics. Before the tablet computer launched in April, fans could read digital comics in several ways, neither of which were ideal: on a desktop or laptop computer, or via a smartphone's tiny screen, panel by panel. As for e-readers, which are primarily made for black-and-white text -- forget it.
"The iPad is much better suited for comics, and on that platform, comics are expanding very rapidly," said Milton Griepp, president and publisher of the trend-watching magazine, ICv2, which reported sales of between $500,000 and $1 million in digital comic sales on mobile apps in 2009.
"I was skeptical at first about reading comics from my laptop or desktop, but once I read them from my iPad, it was pretty beautiful," said digital comics blogger Shawn O'Rourke. "It looked great, the color was great. The size is similar to a comic book. It doesn't seem like there is much competition for ease of reading."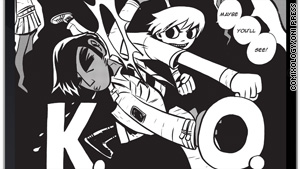 The best-selling "Scott Pilgrim" graphic novel series was released this week as an iPad app.
Publisher Marvel Comics released many older titles for the iPad as soon as the tablet was available, followed soon after by "day-and-date" releases -- issuing digital versions of comic books at the same time as print versions.
"The latest we did was the 'Iron Man Annual,' said Ira Rubenstein, executive vice president of Marvel Digital Global Media Group. "We just announced [at San Diego Comic-Con] that 'Ultimate Thor' would be coming out day and date." Marvel currently has more than 900 issues available on the iPad, with dozens released each week.
IDW Comics, which publishes "Star Trek," "Transformers" and "G.I. Joe" comics, was also an early adapter to the iPad, and currently has more than 400 issues available through multiple apps.
In June, DC Comics -- owned by Time Warner, which owns CNN -- jumped on board, offering up hundreds of issues such as "Superman/Batman," "Sandman" and "God of War," as well as a day-and-date release of "Justice League: Generation Lost."
"The whole launch went as smoothly as one could hope and we've got a lot of interesting feedback and data from our digital sales and meaningful dialogue from our retailers," said Jim Lee, DC's co-publisher. "'Sandman' did well on the day of launch because [writer] Neil Gaiman tweeted something about it."
However, despite what may seem like a rush to exploit this new platform, the major publishers are still in the early stages, experimenting with what works and what doesn't. One major reason for this: the necessity to work with comic book retailers, who might reasonably be nervous as to how all of this might affect sales, especially considering that the prices for downloads are comparable (and at times cheaper) than the comic books themselves.
"As for the future of day-and-date releases, I think the jury is still out," said Rubenstein. "We think that there was no impact, positive or negative on [traditional comic book sales for] 'Iron Man Annual' and we'll see what happens with 'Thor.' "
"In a lot of cases, the iPad looked like the weapon of mass destruction [to retailers]," said Jeremy Atkins, director of publicity for Dark Horse Comics, which has released popular titles "Sin City," "300" and "The Guild" for the iPad. "They kind of realize now -- and as we try to make clear to them -- that this serves as an opportunity."
Publishers and some other observers say that the digital revolution can bring new customers into the "brick and mortar" stores, which have driven the industry for the past few decades.
"If you can read 'Civil War' or a great DC comic or 'Locke & Key' on the IDW app on your iPad, you may open yourself to a whole new world of comics that you never gave a chance because you had never ventured into a comic book store," said G4 TV's comic book expert Blair Butler.
Anecdotally at least, it's started to have some effect. "I've talked to retailers who say that digital is increasing print sales," said Griepp. "One person I talked to told me, 'I got a new iPad customer yesterday.'"
Kyle Putkammer, owner of Galactic Quest, a mini-chain of comic book retailers in metro Atlanta, Georgia, said digital comics haven't really affected sales one way or another so far, and in fact, big changes such as the new Wonder Woman costume have had more of an effect.
"Anytime the media gets in there and tells people, hey check this out, people come running, almost more so than the comic-book movies themselves," he observed. "Oddly enough, the best selling comic book in my 20-year-history was the ['Amazing Spider-Man'] cover with Obama, and you can't get that with a digital format."
As for the long-term impact of digital, Putkammer said, "It's relatively easy to use, and in some ways it's attractive. It's a side thing that hopefully will enhance the industry."
Valerie D'Orazio, a comic book writer who blogs at "Occasional Superheroine" and "Val's Digital Comics Page" said, "[Digital comics] may not be in the same form or the same exact way it's presented now but it's definitely here to stay."
Others who spoke to CNN also agreed with the assessment that digital comics will continue to grow for the foreseeable future.
One publisher of non-superhero comics, Scott Kurtz, has been publishing PVPonline.com for 12 years -- beginning before the idea of a "web comic" was even established.
Independent publishers such as Kurtz have since created a brand new genre of comics online, often getting away with themes that the syndicated newspaper strips couldn't touch.
Kurtz welcomes the attention that has come with the iPad.
"If tablet devices become the norm, I'll be super happy," he said. "We have a specific app for the iPhone. We broke our existing business model on the iPhone so our readers could get on our strip on the go."
Another independent web comics publisher, Brad Guigar, agrees.
"Being that the central thrust of my comic, 'Evil, Inc.,' is a website that updates six days a week, it's very much iPad friendly," he said.
As with so many other sources of entertainment, digital seems to be the future. But will it ever fully replace turning the pages of a glossy comic book?
Harry Crosland, an iReporter who tried out the Marvel Comics app on the first day that the iPad was released, said, "I don't think that will ever happen. There are too many purists who still want that paper copy of a book. However, as more and more mobile devices appear, the appeal for digital comics will grow as long as the business model is fair to consumers."
"Over a long enough period of time, I think it's possible that it could go all digital," said Shawn O'Rourke, who writes for Popmatters.com. "I don't necessarily see it coming up in the forthcoming decades completely. It might end up similar to manga in Japan, where you can read single issues on a digital platform but a nicer collection can be purchased as well."
Dark Horse's Atkins agrees that digital can't replace the comic-book-reading experience completely.
"If you actually look at what happened to the record industry, a lot of the smaller record stores continue to thrive," he said. "I'm still more likely to want to talk to the people working in a record store or comics shop. I like having a rapport with people who understand what I like. Ultimately, there's still no substitute for that."