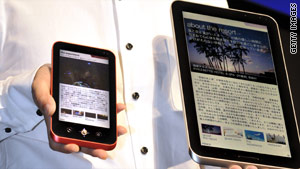 A Sharp engineer displays prototype models of electronic tablets in Tokyo, Japan.
STORY HIGHLIGHTS
Several companies have hinted at touchscreen tablets that will arrive in the next year

Apple has built a huge lead in this category, in numbers and in consumers' minds

The tablet market is estimated to generate sales of more than 25 million by the end of 2011
(CNET) -- Some of the world's biggest electronics companies are readying an assault on the tablet market. But before they even begin, they find themselves at an early disadvantage.
Though Samsung, LG Electronics, Acer, Hewlett-Packard, Asus, Research In Motion, and Dell have announced or hinted at touchscreen tablets that will arrive between now and March 2011, they're way late to the party.
Since the iPad's debut in April, Apple has built a huge lead in this category -- in terms of actual devices sold but also in many consumers' minds.
The category is new -- a large touch-screen device bigger than a smartphone and running a lightweight operating system wasn't widely available to consumers prior to the iPad's introduction -- but Apple got out of the gate and hasn't looked back. The company is selling about 1 million iPads per month and has not noticeably slackened its pace since.
The entire media tablet market is estimated to generate sales of just more than 12 million units by the end of 2010 and 25 million by the end of 2011, according to analyst firm IDC.
Apple had sold more than 3 million by the end of June, and at that pace, Apple has likely sold about 4 million to date. That's almost a third of IDC's forecast for the year, and the all-important holiday shopping season is still ahead. So where exactly does that leave the latecomers?
At first glance, the chances of the Galaxy Tablet from Samsung or a WebOS-based slate from HP wresting some reasonable share of this market from Apple in the short term don't seem great.
The companies with the most resources and brand recognition in position to compete with Apple are either only just getting their products into stores or about to put them into production (see the rest.)
Of course, none is completely out of the game. There's always room for competition, particularly in a market dominated by Apple, a company that tends to inspire both abject devotion in its customers and intense ire among its detractors. But this market is also so new, and we still haven't seen what tablet versions of Android, WebOS, or BlackBerry OS are capable of.
Six months from now, just after the yearly Consumer Electronics Show in Las Vegas, the tablet landscape is going to look a lot different than today -- expect to hear many iPad wannabes announced at the show.
But for all of the new products introduced, there are a few key things that need to happen if they're going to make a dent in Apple's lead: find a tablet-oriented operating system, pull together great hardware and get app developers on their side.
Software
One of the reasons it has taken Apple's competitors awhile to catch up is they don't have their own operating system that is tablet-ready. While it's been "difficult and time-consuming" for Apple's competitors to pull together the various pieces to build a device that can compete with iPad, "the gating factor has been, in large part, the operating system," said Susan Kevorkian, IDC analyst.
RIM and Palm (now owned by HP) control their own OSes, but we'll get to them later. Most of the tablets that have already been announced (Dell Streak, Samsung Galaxy, Asus Eee Pad) use Android, the Google-developed free mobile OS. We still haven't seen a tablet-optimized version of Android, but it's coming. We'll get to see what Google has come up with once Android 3.0, or "Gingerbread," is launched sometime between October and December.
"Google has to do what Apple did: figure out what is different about touch input in a tablet, how is the (virtual) keyboard different, what is the unique user interface experience," said Michael Gartenberg, analyst with The Altimeter Group.
It's the same problem facing Windows 7 on a tablet. Though the likes of HP and Asus have talked about using it on a touchscreen tablet, Window 7 is not optimized for touch input. IDC, for instance, doesn't even include it when tallying iPad competitors. And while the new Windows Embedded Compact 7 version might be aimed at tablets, it doesn't have its own built-in app store, which is crucial.
That's a key factor in building a successful iPad competitor that neither Google nor the hardware makers really have control over: getting app developers on board.
The thing that portended the explosion of the iPhone and eventually iPad for Apple was the company's ability to get and keep individual app developers on its side. Apple's App Store currently boasts 225,000 apps, the most of any of its kind. Only once the App Store exploded did the iPhone truly establish its influence over the mobile computing market.
While Android has gained momentum with app developers crossing over to its platform, which Apple is very well aware of, getting those same developers to optimize their 100,000 apps for tablets is another challenge.
Hardware
But even more than good software and an app store, at the most basic level you have to have impressive hardware. Dated touch-screen technology, low-end processors, and a 4-hour battery are not going to distinguish themselves against the dominant force in the category, said Gartenberg.
"You introduce something that isn't at least as good as the iPad, it doesn't have a chance," said Gartenberg. "But it's not just 'How do I create something that's as good as the iPad?' but how is it differentiated and better than the iPad? And Apple is already working on the next version."
Differentiation can take different forms. RIM is reportedly making its tablet a companion to BlackBerrys, which could be attractive to loyal BlackBerry-toting types. And putting Flash on a tablet would appeal to those frustrated by Apple's banning of it in iOS. Including a camera or two (front- and back-facing) would also be something Apple doesn't yet have.
What about RIM and Palm?
Though both RIM and HP have an advantage in owning and controlling their own OSes the way Apple does, they haven't proven them to be viable for tablet use -- yet.
BlackBerry 6 and Web OS are both made for smartphones, just like iOS was made for a smartphone. Apple didn't just drop it on a larger-screen device; it took the time to fine tune it for the iPad. It's very likely RIM and HP can do the same, it just may take time.
HP has the added benefit of a lot of resources it can throw at WebOS, but it'll be competing for developers for its App Store with Apple, Android, and BlackBerry.
Though it'll be challenging, Apple's lead in the touch-screen tablet market isn't impossible to overcome. And clearly, there are plenty of heavy hitters up for the challenge, judging by the abundant rumors we're hearing.
"Apple is the first vendor to succeed in this no-man's land device space," Gartenberg said. "But the lesson here is: no one is going to cede that land to Apple. Starting fourth quarter of this year, you're going to hear a lot more."
© 2010 CBS Interactive Inc. All rights reserved. CNET, CNET.com and the CNET logo are registered trademarks of CBS Interactive Inc. Used by permission.
FOLLOW THIS TOPIC