Report: U.S. virtual goods market growing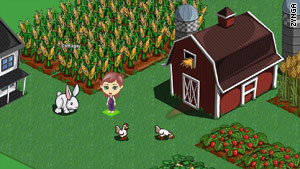 Virtual goods are used in "FarmVille" and other online games on social networks like Facebook.
STORY HIGHLIGHTS
Inside Network says the U.S. virtual goods market will hit $2.1 billion in 2011

Social games like "FarmVille" are the biggest part of the trend, the group says

Analyst says the size of the market is hard to define and it is not mainstream

Virtual goods are digital items that have no tangible value in the real world
(CNN) -- Despite some skepticism about America's appetite for purchasing digital trinkets in games and on the internet, the "virtual goods" market is growing at a healthy clip, according to an industry report issued Tuesday.
The research group Inside Network says the U.S. virtual goods market will hit $2.1 billion in 2011, up from $1.6 billion this year.
The group, which also owns a blog about Facebook, attributes much of the growth in that market to social online games like "FarmVille."
"One of the biggest trends we see in the technology industry in general right now is the growth of social gaming, and how it already has become nearly a billion-dollar market itself just in the past couple of years, primarily on the Facebook platform," said Justin Smith, founder of Inside Network.
Inside Network released a summary of its report to CNN in advance of its release on Tuesday but would not make the full text of its report public.
Nick Thomas, an analyst at Forrester Research, said the size of the virtual goods market is difficult to define and that, in general, purchase of online and digital goods is still outside the mainstream.
"There are a few companies doing this very well and executing this very well, so by the time you factor in 'World of Warcraft' and one or two others, then you've probably got a fair chunk of the market," he said. "There are not hundreds and hundreds of companies doing this well."
One problem for the industry, Thomas said, is that only 1 to 2 percent of people who play social games actually purchase goods to keep playing.
Generally, players can opt to buy digital goods and equipment that will help them play a game more successfully, or they could log more hours in the game to earn those bonuses and power-ups. The term virtual goods refers to digital items that are purchased for use online, in games and on mobile phones.
Online news stories could be considered virtual goods in the loosest sense, Thomas said, since some people will pay for an article that does not exist -- or at least is not tangible -- in the real world.
Inside Network, which based its analysis on dozens of interviews with companies and investors involved in the virutal goods market, says it includes the following areas in its analysis: social games, online free-to-play games, virtual worlds, mobile games, and purchases made through console gaming systems.
Mainstream media companies would be smart to watch the development of the virtual goods market, Thomas said.
"The big media companies are rightly trying to keep on top of emerging trends," he said. "Whatever's hot for consumers, they should be on top of and try to understand."
FOLLOW THIS TOPIC