Apple unleashes Lion; so which cat could be next?
STORY HIGHLIGHTS
Apple's Mac operating system update, named "Lion," is latest in a string of big-cat names
With all big cats now tapped out, National Zoo curator says smaller options are left
Bobcat and lynx could be used, while the more exotic jaguarundi would mix things up
(CNN) -- Apple CEO Steve Jobs on Wednesday rolled out Mac OS X Lion, the computer company's latest operating system.
And with that, Apple has pretty much tapped out all the major big-cat names: Cheetah. Puma. Jaguar. Panther. Tiger, Leopard and Snow Leopard. All have been used as nicknames for the software that runs Apple's computers.
That left us wondering what's next? Cougar? Mountain Lion? Saber-toothed Tiger?
So, we called an expert.
Craig Saffoe, curator of the Great Cats and Bears unit at the Smithsonian's National Zoo in Washington, has worked with big cats for 16 years. And he says hope for a feline future at Apple is not lost.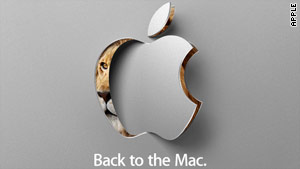 King of the jungle: Apple's invitation to Wednesday's event.
Want to make a bigger push into cloud computing, Mr. Jobs? There's the clouded leopard, Saffoe says.
For a classy, ancient-Latin flair,Apple could shift into using genus and species names. Panthera and Tigrus sound cool to us.
"Of course, within the species you have several different subspecies," Saffoe said. "But you'll even geek out the geekiest people if you go that deep."
Apple's best bet may be delving into the world of smaller cats. With 25 more species, there's something for every cat [and Mac] lover.

Video: Jobs on future of notebooks

Video: Apple upgrades iLife
The bobcat and the lynx are probably the two front-runners here.
But if Apple wants to go more mysterious, Saffoe offers up one of his favorite lesser-known cats: the jaguarundi.
"That's probably the most obscure and odd one," he said.
The rust-colored cat mostly lives in South America and Central America, and looks a little like a cross between a big house cat and an otter.
"They're very mysterious; that's probably the number one characteristic of them," he said. "We don't know a ton about them."
Slogan?: "Mac OS X Jaguarundi: Just trust us."
Saffoe says it's no surprise that companies such as Apple like using cat names for their products. Sleek, fast and powerful is a pretty good corporate image, he said.
"Grace and beauty wrapped in a killing machine," he said. "They're perfect killing machines that have evolved over time to do their jobs extremely well. For a computer system, you can make the obvious parallel."
FOLLOW THIS TOPIC