Can cell networks handle the World Cup?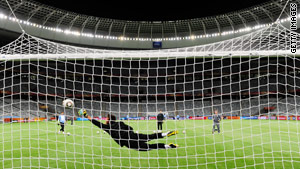 Mobile video may overwhelm cell networks during the World Cup.
STORY HIGHLIGHTS
The World Cup is expected to be a landmark event for mobile video

But as people follow the soccer matches on phone, cell networks may crash

Nielsen says 23 percent of U.S. soccer fans plan to watch the Cup on mobile gadgets
Editor's Note: Amy Gahran writes about mobile tech for CNN.com. She is a Bay-Area writer and media consultant whose blog, Contentious.com, explores how people communicate in the online age.
(CNN) -- World Cup time is almost here -- but can your cell carrier handle it?
Beginning Friday, millions of sports fans in the United States and around the world will be using their wireless mobile devices -- smartphones, iPads and every kind of cell phone -- to catch an amazing month of soccer (or football, depending where you live).
During the games, live mobile video coverage will be available from ESPN Mobile TV, Sprint TV, and other mobile carriers and media organizations. Plus, fans will be checking for World Cup photos, video highlights, commentary, scores, tweets and more.
This will be a watershed event -- and a big challenge -- for mobile carriers in the United States and abroad.
According to The Nielsen Company, 23 percent of U.S. soccer fans plan to follow the World Cup via mobile. Also, U.S. soccer fans who reported being less likely to watch live TV broadcasts of World Cup games are especially likely to use mobile devices to follow the games live.
Smartphones like the iPhone and Droid, which can deliver video across a cell network connection, are increasingly popular. But no cell carrier has a data network with infinite capacity -- and mobile video involves moving huge amounts of data around.
If a large contingent of mobile customers suddenly develops a huge appetite for mobile video, that can overload the network and cause problems for all mobile network users. Mobile video doesn't travel along a separate network.
When cell networks get congested, more calls get dropped, Web pages take longer to load, apps take longer to update and social media services like Twitter and Facebook get harder to access from your phone.
Recently, Deloitte telecom analyst Ed Marsden said: "There is a high probability that networks could become saturated during midweek [World Cup] day games if individuals do not have television access and, in turn, opt for online viewing. And, with social media and micro-blogging sites likely to attract plenty of commentary, this problem may only be exacerbated."
What's your experience of following the World Cup via mobile device in the United States? Are you seeing an increase in the effects of network congestion? Please comment below as the games begin.
FOLLOW THIS TOPIC