Droid X introduced a day ahead of iPhone release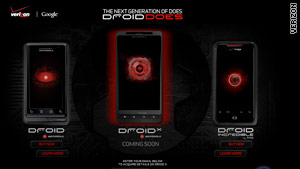 Droid X will have bigger screen, better video than iPhone, Verizon claims.
STORY HIGHLIGHTS
Droid X phone to be announced Wednesday

Verizon says new smartphone will have 4.3-inch screen -- bigger than iPhone's

Droid X also praised for its high-definition video and digital audio capabilities
(CNN) -- A day before the the much-hyped release of the iPhone 4, Verizon is announcing a new Droid phone that's got some analysts more excited.
The official rollout of the Droid X was scheduled for 1 p.m. on Wednesday.
But earlier in the day, Verizon posted a teaser page on its website showcasing the phone.
Chief among the features it promotes is a 4.3-inch screen, considerably bigger than the new iPhone's 3.5-inch display.
It also highlights the phone's video and audio capabilities -- particularly the ability to capture and show high-definition video and play digital audio.
Mobile analysts are predicting a continued move to larger smartphone screens as customers look to use them for watching movies, as e-readers and the like. One knock on the new iPhone is that its display screen is no bigger than the one on the current 3GS model.
A short, surreal, video clip from Verizon, posted on YouTube, also promotes the Droid X, showing a release date in July.
iReport: Are you anticipating the iPhone release?
Like other Droid phones, the Droid X runs on Google's Android operating system, which runs a different set of apps from Apple's gadgets.
FOLLOW THIS TOPIC