AT&T app offers TV on iPhone, new BlackBerry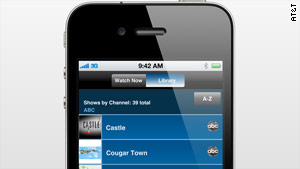 A new AT&T app lets iPhone users download and watch TV shows.
STORY HIGHLIGHTS
App from AT&T lets iPhone users download and watch TV shows on their phones

U-verse Mobile can't show programs live but lets users download them days afterward

Version for the BlackBerry Torch coming soon, company says

(CNN) -- Users of the iPhone can now download and watch TV shows on the device, AT&T announced Monday.
Subscribers to U-verse, the communications company's digital television package, will be able to browse the service's TV guide, download shows via Wi-Fi and watch them anywhere, said David Christopher, chief marketing officer for AT&T Mobility.
"We think this idea of TV everywhere is very compelling and important," Christopher said. "This lets us be the first one to marry what we think is the best TV product in the industry with the best smartphone in the industry."
The app also will be available for the new BlackBerry Torch, which goes on sale Thursday, he said.
AT&T U-verse Mobile expands subscribers' current ability to set DVR recordings and other settings remotely through their phones.
The company, the exclusive mobile provider for the iPhone, says it's the first to offer remote controls and the ability to watch TV shows on a phone in one app.
Shows won't be available live, Christopher said, but users will be able to download them as soon as it's cleared by the networks -- usually a couple of days afterward.
Smartphone users can, of course, currently use their web browsers to stream select television shows from sites like Hulu.
But Christopher said U-verse Mobile offers a much wider variety of programs and, by downloading instead of streaming, lets users watch the shows regardless of Wi-Fi and mobile access -- on an airplane, for example.
"This is your own TV service," he said. "If you're a U-verse subscriber, you get very close to the same user experience."
The app will be available for 3G and 3GS iPhones and the iPhone 4, and to users with the mid-range and upper-tier U-verse packages. According to AT&T's U-verse website, those packages start at $82 a month.
U-verse is a 100 percent Internet protocol-based television service.
FOLLOW THIS TOPIC