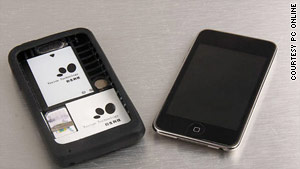 The "Apple Peel 520" -- a converted iPod Touch that makes calls -- is an example of China's growing "shanzhai" market.
STORY HIGHLIGHTS
Gadget from China turns iPods into iPhones
Developed by 22-year-old from Chinese city of Shenzhen
Example of "shanzhai", booming market for copycat and black market tech
(CNN) -- Have you ever wished that your iPod Touch was an iPhone? Now it can be, thanks to a new device called the "Apple Peel 520" and created by a Chinese company.
Invented by a 22-year-old programmer who lives in the southern Chinese city of Shenzhen, the gadget is comprised of a case that fits around the outside of Apple's iPod Touch, a popular media player and Wi-Fi-enabled pocket computer with e-mail, maps and other applications.
The Apple Peel 520 case contains a battery, dock connector and SIM card that allows voice calls. Users will also have to install special software to enable a text messaging function, and to allow the device to properly work with the iPod Touch (users will have to break into the software of the iPod in order to download the necessary applications).
Once installed, the Apple Peel gets around five hours of talk time and 120 hours on standby, according to a review posted on Dailytech.com.
I developed it because I love the iPhone, but it's too expensive in China.
--'Maxpy', developer of Apple Peel 520
CNN interviewed the inventor of the device via QQ, a popular instant messaging service in China (he declined a phone interview and was only willing to offer his online name: "Maxpy").
When asked why he created the Apple Peel, Maxpy said it boiled down to economics: "Because I love the iPhone, but it's too expensive in China."
Maxpy said he began building the device last April, revealing the final product online about a month ago via a company he started called Yosion Technology.
The iPhone, which was officially launched on the mainland last October, more than two years after its debut in the US, costs between $588 - $740 while an iPod Touch is around $235. The Apple Peel sells for $57.
Analysts said a thriving gray market flooded with fake iPhones smuggled in from Hong Kong and the West has hurt legitimate sales of the Apple smart phone here.
The illegitimate phones are usually cheaper and contain functions, such as wireless Internet, that are not available on phones sold through legal channels.
"All of the potential users already had purchased an iPhone, they had found a way to buy one," Leo Wang, founder of Mobile 2.0 forum, a telecom and mobile organization, told CNN after the China launch of iPhone release last year. "The official iPhone is too expensive."
Most of Apple's factories are in China, so it is not like China cannot make high-quality products
--Benjamin Joffe, Internet Consultant
Whether or not the Apple Peel 520 will appeal to Chinese consumers or have any impact on iPhone sales in the country remains to be seen. So far, according to Maxpy, only around 150 of the devices have been pre-sold on Taobao.com, a popular Chinese e-commerce site. Two were sent to technology websites for review.
While there are plans to mass manufacture the gadget in the future, Maxpy says those plans are on hold until the company can ensure there are no intellectual property right violations.
"We have no detailed plans," he said. "But of course we want to make a profit from it."
Maxpy also said they want to check on Apple's policy on "outside devices" as well as try to reach the company to see if they have any interest in the gadget, asking CNN whether we could put him in touch with Apple CEO Steve Jobs. We could not.
CNN did try to reach Apple representatives in Beijing and Hong Kong. No one was available for comment.
There are also a few technical glitches to be worked out. According to a Chinese review translated into English on M.I.C. Gadget, the Apple Peel does not support 3G, there's a small lag time when calls are made from the iPod Touch and deleting and forwarding text messages is not available, among other minor complaints.
Nevertheless, many say they are impressed with the functionality of the device.
"It is the first time there has been a hardware application that has changed the functionality in such a key way," said Tai-Pan (a pseudonym), editor of the Taiwan-based Shanzai.com. "It is very cheap for someone with an iPod Touch, so there is some kind of value proposition for people who want to save money."
What's more is the Apple Peel also illustrates the evolution of China's massive "shanzhai," or black market, phone industry. Based mostly in Shenzhen, it is an industry characterized by the massive production of copycat mobile phones and other devices, which are sold at lower prices and often with more localized functionality than global brands.
Every year, millions of shanzhai phones are sold throughout China and exported to developing countries, resulting in a major dent in the sales of mainstream manufacturers in those markets, according to the research firm Gartner.
"People are already or will soon be buying not just China-made but China-owned products," said Benjamin Joffe, founder of the Beijing-based mobile and Internet consulting firm Plus8Star.
"Most of Apple's factories are in China, so it is not like China cannot make high-quality products," he said.
"The issue remaining to go up the value chain has been design, marketing and distribution. Chinese companies are learning, acquiring talent and buying what is missing."
FOLLOW THIS TOPIC