NASA, HBO join mobile check-in game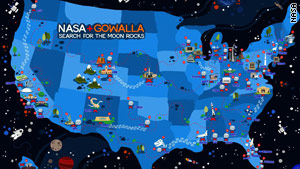 NASA has teamed up with mobile check-in app Gowalla, creating a game to collect virtual goods.
STORY HIGHLIGHTS
NASA, HBO sign up for features on mobile phone check-in apps

NASA joins Gowalla to give away virtual goods, like "moon rocks" at certain sites

"True Blood" fans will get discounts by checking in on entertaniment app GetGlue
(CNN) -- NASA and HBO on Thursday became two of the latest organizations seeking to capitalize on the growing popularity of mobile check-in apps.
The space agency will be trying to drum up interest in its programs on Gowalla, the Austin, Texas, location-based mobile app, by hiding virtual gifts, including moon rocks and spacesuits, at various spots for its users.
And fans of HBO's vampire drama "True Blood" will be able to earn discounts by "checking in" to the show via the mobile phone app GetGlue.
The announcements, both made Thursday, speak to a lingering question for check-in apps -- a field currently being led by social-mobile app Foursquare: Once people get tired of the gaming aspect of the apps, how do you keep them coming back?
Like Foursquare, Gowalla lets people use their mobile phone to "check in" wherever they are, giving their friends a heads-up when they're out and about. Gowalla also lets them "find" virtual gifts tied to particular locations.
According to NASA, the "moon rocks" can be found anywhere a real one is on display, along with other items that can be "found" at space centers and science museums.
For HBO, the GetGlue deal is a way of continuing a viral online marketing campaign that has helped make the bloody, campy "True Blood" a hit.
"It's our way of saying thank you to our biggest brand ambassadors by providing them with 'real world' rewards just in time for their 'True Blood' Halloween celebrations," said HBO spokeswoman Sabrina Caluori.
GetGlue, and competitors like Miso, let users check in not to places, like Foursquare and Gowalla, but to TV shows, movies, books and other entertainment. The idea is to start discussions with friends, earn in-game rewards and get tips on similar entertainment options.
With the HBO deal, users would get bigger discounts on "True Blood" gear at HBO's online store the more times they check in to the show. All GetGlue users get a 10 percent discount, and the "True Blood guru" -- the app's most knowledgeable user about the show -- gets a $50 gift card.
"The discounts provide additional strong incentives for people to check-in, and we intend to broaden this offering and bring on board more partners in coming weeks," said GetGlue CEO Alex Iskold.
Iskold said the app, launched in January, has about 650,000 active users and hit 10 million ratings and check-ins in September.
FOLLOW THIS TOPIC