'Zombie' virus attacks more than 1 million cell phones in China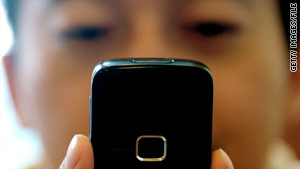 STORY HIGHLIGHTS
The "Zombie" virus is transmitted from cell phone to cell phone
The virus binds with a security ap, which transmits SIM card data to a central server
Hackers at other end send back virus-ridden links for games and software, CCTV says
Nearly 1 million phones in China were infected in the first week of September, official says
(CNN) -- More than 1 million cell phones in China have been struck by the "Zombie" virus, according to Chinese state media, CCTV and Xinhua.
It's called the "Zombie" virus because it transmits from phone to phone, just as in the movies, zombie bites turn people into the living dead.
The virus binds with a security application, which then transmits the user's SIM card details to a central server controlled by a small group of hackers. The hackers then will send messages or make phone calls that contain virus-ridden links for games and software, said CCTV.
Receivers who follow the link will find their phones infected, too, while at the same time providing a "click through" for the link itself, which typically translates into a payment for a party publicizing the links. CCTV said that the blame is likely to lay with intermediary distributors instead of the actual game or software developers that show up in the ads.
Zhou Yonglin, an official with the National Computer Network Emergency Coordination Center, told CCTV that "in the first week of September, nearly 1 million cell phones in the country were infected with the virus."
And although telecom providers are said to have taken steps to reduce the number of infected messages, Zou Shihong, a telecom expert at the Beijing University of Posts and Telecommunications, told CCTV that an updated virus might start sending fewer messages, making it harder for cell users to notice any suspicious activity.
Chendu Qimiao, the company behind the original infected security application, told CCTV that is has nothing to do with the virus, adding that it's difficult for users to tell which applications are infected and which are safe.
FOLLOW THIS TOPIC