Apple updates iOS, adds free feature for finding lost gadgets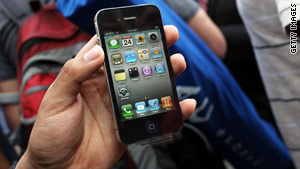 Lost Apple gadgets can now be located free using a feature called Find My iPhone.
STORY HIGHLIGHTS
Apple's iOS update makes a feature for locating lost gadgets free

The software also adds wireless printing and video transmission

IPad owners have eagerly awaited this version, which adds multitasking to the tablet
(CNN) -- Lose your iPhone? There's been an app for that since June, but now it's free for owners of newer Apple gadgets.
Apple released a new version of iOS on Monday, adding new features to the mobile operating system that drives the iPhone, iPod Touch and iPad.
Owners of the iPad, a camera-equipped iPod Touch or iPhone 4 can go to the App Store and download Find My iPhone (yes, that's the name of it even for nonphone hardware). The service was previously included only as part of Apple's Mobile Me package, which costs $99 per year.
Once the feature is enabled, the owner of a lost device can see its location on a website, which accesses the phone's GPS coordinates to show it on a map. You can also have the gadget display a message pleading for whomever finds your property to return it; additionally, you can set a passcode or send a command to wipe personal information from the hardware.
The update also adds the ability to wirelessly print documents and to transmit video or music to an Apple TV or compatible speaker system using a feature called AirPlay.
This software version 4.2 brings the iPad in line with Apple's other mobile products. With this version, the iPad can now run apps in the background -- say, listening to Pandora while surfing the Web. It also unlocks Game Center (Apple's social network for games), the ability to organize apps into folders and new features for the e-mail client.
Some reports say the update also improves performance on the aging iPhone 3G. Apple's iOS 4 software created a slew of problems for owners of those phones, sparking a lawsuit.
To install the free software, connect your Apple device using a USB cable to a computer running iTunes.
FOLLOW THIS TOPIC