Facebook privacy settings finally go mobile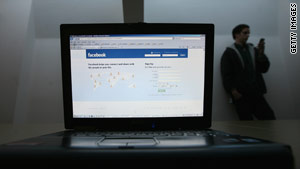 An update to Facebook's privacy settings on mobile phones has arrived.
STORY HIGHLIGHTS
Facebook rolls out privacy controls for mobile site

Feature lets users see what they've shared and change settings on the go

The new controls aren't yet available for Facebook's popular mobile apps
Editor's Note: Amy Gahran writes about mobile tech for CNN.com. She is a San Francisco Bay Area writer and media consultant whose blog, Contentious.com, explores how people communicate in the online age.
(CNN) -- In response to user complaints about its privacy settings, Facebook in October debuted its privacy dashboard. But you could only use it from a computer.
This week, Facebook has made it easier for users to check and change their privacy settings from mobile devices, too.
In a December 8 blog post, Facebook product manager Rose Yao explained: "Now you can see a detailed view of the information you've shared with various applications and websites and adjust your settings on the go. A full list of all the applications you use, along with when they last accessed your information, is now available in the Applications and Websites section of your privacy settings."
This is an expansion of the mobile privacy controls Facebook rolled out this August, which apparently didn't give users quite as much control over privacy for specific Facebook applications as the updated mobile privacy controls do.
So far, this privacy control upgrade seems to be available only via theFacebook mobile web site and not through the popular Facebook smartphone apps. I just checked the Facebook app for Android and could not access my privacy settings there.
Hopefully later Facebook will roll out this feature to its smartphone apps, as it did for Facebook Places. Improving users' mobile access to their privacy settings is pretty important, since last month Facebook rolled out a single mobile sign-on for applications.
Inside Facebook's Josh Constine explained: "Apps which integrate with Facebook on iPhone and Android will query the Facebook for iPhone or Facebook for Android app to check to make sure a user is signed in. If they are, users simply need to click 'login' in the app to access it.
If they are logged out of Facebook via their phone's native app, they'll be prompted to log in to Facebook, but won't be making an app-specific Facebook login."
For example, "A big barrier to trying a Groupon is not wanting to sign-in or sign-up. Now users can quickly sign-in through Facebook and instantly buy a Groupon," wrote Constine.
Given that social media is one of the most popular things people do on their cell phones (both smartphones and web-enabled feature phones), it's important to be able to access and control your privacy settings wherever you are -- especially since Facebook is getting more integrated with other mobile apps.
Often the tradeoff for digital convenience is privacy. If privacy matters to you, it pays to know how to monitor and control your privacy as much as possible.
FOLLOW THIS TOPIC