STORY HIGHLIGHTS
Study finds that a common herbicide can emasculate male frogs and turn some into females

Atrazine is weed killer widely used in Midwestern U.S. and other areas of the world

Some scientists are concerned the herbicide may pose risks to reproductive health

Manufacturer: "Residues of atrazine ... in water do not pose a health risk for consumers"

(CNN) -- Atrazine, a weed killer widely used in the Midwestern United States and other agricultural areas of the world, can chemically "castrate" male frogs and turn some into females, according to a new study.
New research suggests the herbicide may be a cause of amphibian declines around the globe, said biologists at the University of California-Berkeley, who conducted the study. The findings are being published this week in the journal Proceedings of the National Academy of Sciences.
Researchers found that long-term exposure to low levels of atrazine -- 2.5 parts per billion of water -- emasculated three-quarters of laboratory frogs and turned one in 10 into females. Scientists believe the pesticide interferes with endocrine hormones, such as estrogen and testosterone.
"The effects of atrazine in the long term have been shown to demasculinize or chemically castrate [frogs], combined with complete feminization of some animals," said lead researcher Tyrone B. Hayes, a biologist and herpetologist at the University of Berkeley.
"We need to reconfigure how we evaluate chemicals in the environment and the impact on environmental health and public health," he said.
Hayes found that 10 percent of the exposed genetic male frogs developed into functional females who copulated with unexposed males and produced viable eggs. The other 90 percent of the exposed male frogs expressed decreased libido, reduced sperm count and decreased fertility, among other findings.
Syngenta, a Swiss company that is the largest manufacturer of atrazine, has challenged the validity of Hayes' study.
"We haven't seen these kinds of responses that Dr. Hayes reports," said Keith Solomon, an environmental toxicologist at the University of Guelph in Ontario, Canada, who has served as a consultant to Syngenta. "Some of these studies are poorly conducted and are entirely inconsistent."
The new study's implications for atrazine's effect on humans is unclear. But some scientists are concerned the herbicide may pose risks to reproductive health.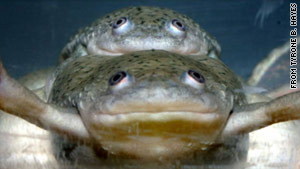 One of these copulating frogs, both genetically male, has been feminized by exposure to atrazine, says a new study.
The U.S. Environmental Protection Agency last year launched a comprehensive evaluation of the herbicide to investigate any possible links between atrazine and cancer and to determine whether new restrictions are necessary. The EPA's current safety standard for atrazine in drinking water is three ppb.
The European Union banned atrazine in 2004 because it was consistently showing up in levels higher than 0.1 ppb -- its threshold for harmful chemicals -- in drinking water.
Farmers in the United States continue to use atrazine on crops.
The herbicide has been a long-standing favorite among corn, sorghum and sugarcane farmers because it is affordable and can eliminate the need for tilling the soil. Tens of millions of pounds of atrazine are used each year in the United States. Syngenta estimates that 60 million pounds were used during 2008, most of it on corn.
A 2006 study by the U.S. Geological Survey found atrazine in approximately 75 percent of stream water and about 40 percent of all groundwater samples from agricultural areas tested between 1992 and 2001.
The Natural Resources Defense Council, an advocacy organization, released a report in August 2009 that documented spikes of atrazine in the water supplies of Midwestern and Southern agricultural areas where the pesticide is primarily applied.
Home or municipal carbon filters can remove atrazine from water but some water filtration systems in small towns are not equipped to filter out atrazine. Water systems in a handful of states have sued atrazine's manufacturers in an effort to force them to pay for removing the pesticide from drinking water.
Tim Pastoor, principal scientist for Syngenta, told CNN that the EPA's current levels for atrazine are safe and that "there is political pressure to get atrazine re-examined."
"Residues of atrazine and all our crop protection products in water do not pose a health risk for consumers," Syngenta says on its Web site.
The company also says "ongoing laboratory and field research by university scientists shows that atrazine has no effect on the survival, growth or limb deformities of frogs."
But Jennifer Sass, a senior scientist with the NRDC's health and environment program, believes the research by Hayes and the other University of California, Berkeley, biologists is valid.
Sass also is skeptical of Syngenta's claims.
"Their tactic is to flood the scientific literature with negative data to negate the other studies," she said. "It's only their studies that show that atrazine is not an endocrine disrupter."
CNN.com's Brandon Griggs contributed to this story.