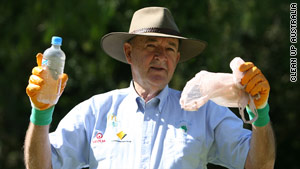 Ian Kiernan: There's good news as well as bad when it comes to our oceans.
STORY HIGHLIGHTS
Environmentalist Ian Kiernan founded Clean Up Australia group
Sailed solo around the world and was shocked by amount of plastic in the oceans
'There are things you can do about this huge problem,' he writes
Yachtsman and environmentalist Ian Kiernan is Chairman and Founder of Clean Up Australia and Clean Up the World. Here he states his opinion on the state of the world's oceans.
(CNN) -- I grew up on the shores of Sydney Harbor and I fondly remember exploring the crystal clear pools, observing the unique and bountiful marine life. Shells and driftwood, cuttlefish bones and dried seaweed littered the sand. That was the only debris from the ocean beyond that I saw.
Fast-forward a few decades and there I was again, on the shores of Sydney Harbor cleaning up a very different kind of litter. It was 1989 and I was leading the first ever Clean Up Day on Sydney Harbor and 40,000 other Sydneysiders were removing hundreds of tons of accumulated plastic, polystyrene, aluminum cans and glass bottles, dumped cars and shopping trolleys.
This event led to Clean Up Australia, which then became the global Clean Up the World movement involving organizations and communities in 130 countries.
The dramatic change in my life was due to rubbish. What I saw while sailing solo around the world in the late 1980s changed me forever. Instead of the stark beauty of the deep blue oceans, I sailed through nautical mile after mile of marine debris.
Plastic of all types, discarded fishing nets and polystyrene buoys blanketing the surface of the ocean. This scene was repeated in all of the oceans I crossed and the remnants of an increasingly throwaway society greeted me at each port.
An estimated 7 million tons of rubbish arrives in the world's oceans every year.
--Ian Kiernan
I resolved then and there to make a difference, to take action raise awareness about the damage our wasteful habits were having on our oceans. The rubbish in our oceans is not only ugly -- it kills.
Turtles with the rings of plastic bottles around their necks, choking to death. Dolphins caught in old fishing nets, drowning because they can't break free. And seabirds drowning because of the fishing line wrapped around their wings. Between 700,000 and 1 million seabirds are killed each year by marine debris such as discarded fishing line and plastic bags. An estimated 100,000 marine mammals are killed each year by plastic in the ocean.
There are two main sources of marine debris. There is the rubbish that comes from the land, delivered by run-off, storm water drains and the wind-blown rubbish that people leave behind. There is also ocean-based debris, and this is just as nasty. It includes fishing lines and nets, offshore oil and gas rig/platform debris, waste from merchant ships, ferries and cruise liners and garbage from recreational and tourist vessels.
Every day, ships jettison 5.5 million pieces of rubbish into the sea. But, it's not just ships that are trashing our oceans. We are all part of the problem. Our oceans have been treated like rubbish dumps. An estimated 7 million tons of rubbish arrives in the world's oceans each and every year.
Most of this rubbish is plastic. This is not surprising because plastic never actually goes away; it simply breaks up into smaller and smaller pieces. Plastic makes up about 80 percent of all marine debris -- plastic shopping bags alone make up 10 percent. And when that plastic breaks down into tiny little pieces, it is often swallowed by marine creatures and enters the food chain.
If all that floating plastic rubbish isn't eaten by marine life, it eventually washes ashore. The currents of the oceans carry the debris far and wide. A recent United Nations Environment Program report found rubbish dumped off Australia's west coast ends up on the east coast of South Africa.
To get your mind around just how much marine rubbish washes up on our shores, consider this: A Marine Debris Survey at Cape Arnhem in northern Australia counted, identified and collected all the rubbish washed up on a 5 mile stretch of beach in 10 days. In just that small stretch of beach they collected a massive 7561 items that weighed 3880 kilograms.
The good news is there are things you can do about this huge problem. The next time you are at the supermarket checkout, say no to your loaf of bread being put into another plastic bag. It is actually quite easy to go without using plastic shopping bags altogether. Use a reusable bag, such as a strong cotton or hemp bag instead.
Always recycle plastic bottles, glass bottles, steel and aluminum cans. Make sure your garbage bin is secured and doesn't let rubbish blow away. Never put chemicals or oil down the drain -- they will contaminate rivers and then make its toxic way into our oceans.
Join your local environment group and experience the great satisfaction you will get from making a difference. And if you see a piece of rubbish lying on the footpath, don't step over it -- pick it up. It won't get to the bin on its own. It we all do our bit then one day your kids will also run freely along the seashore, collecting only seashells.