Tracking tigers in Korea's DMZ
STORY HIGHLIGHTS
Eunice Yoon traveled to Korea's demilitarized zone with a team of tiger trackers
The area has become an accidental paradise for nature since the end of Korean War
Many are skeptical that tigers still live on the Korean peninsula
(CNN) -- I am huddled in a sleeping bag in an old military tent near the Demilitarized Zone in South Korea. I am camping out with a band of men dedicated to protect their loved ones.
Oh, by loved ones, I mean wild animals. These are not soldiers from the nearby U.S. or South Korean armies. Rather, they are a rag tag team of conservationists (and, I suspect, a few of their buddies who may have joined the trip for the rations of hot dogs and blueberry pancakes).
The chief eco-warrior is Sun Nam "Tiger" Lim. (In Korean, his last name translates to "Woods" -- as in Tiger Woods -- no kidding.) Lim has been tracking tigers for 20 years and says his research shows the endangered cat lives in the DMZ.
The DMZ, you ask, isn't that the dividing line between North and South Korea established after the Korean War?

Video: Photographing Korea's DMZ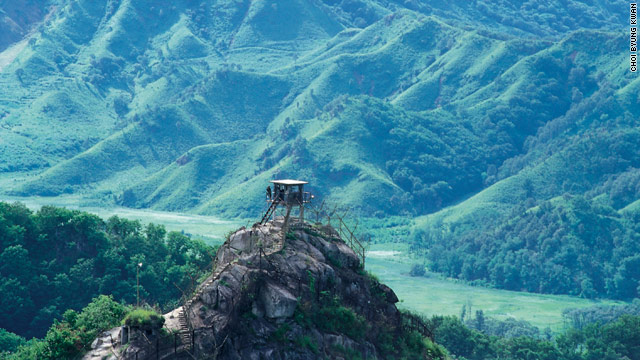 Gallery: Korea's DMZ: In Search for Peace and Life
Yes, and because it's lined with barbed wire, barricades, and landmines, the 4-km wide 250-km long strip of land has become what DMZ Forum president Sean Seung-ho Lee likes to call an "accidental paradise."
Hundreds of species of rare birds migrate here. The DMZ is also home to wild boar and Korean water deer. Some soldiers and farmers have even reported seeing black bears and leopards.
Many environmentalists are skeptical tigers still exist here. Decades of development and war have destroyed the population. But Lim is convinced that about ten tigers prowl the South Korean side of the border.
We spent several hours scanning the mountains with a heat sensing camera, bouncing from one isolated spot to another in the back of a retired U.S. military ambulance converted by Lim into his own tiger mobile. The result: no tigers.
Lim is definitely a little quirky, but I appreciate his earnest and undying efforts to protect an animal that both North and South Korea hold dear. The tiger is a Korean symbol much like the bald eagle represents the United States.
Tomorrow, we go hiking along the path Lim takes up into the mountains. I am not sure we will find tigers, but after my day crossing untouched forestry, rivers, and mountains, I fully understand the need to preserve the DMZ as a wildlife sanctuary.