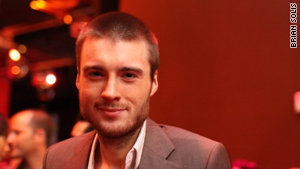 Mashable's Pete Cashmore says the Facebook privacy war is far from over.
STORY HIGHLIGHTS
Facebook rarely misses opportunity to espouse benefits of sharing

"If people share more, the world will become more open and connected," CEO says

"Instant Personalization" shares profile information with trusted third-party sites

Facebook's most recent privacy battle may leave company relatively unscathed

Pete Cashmore is founder and CEO of Mashable, a popular blog about social media. He writes a weekly column about social networking and technology for CNN.com.
London, England (CNN) -- With the announcement of "simpler" privacy settings this week, Facebook must surely hope that its torturous privacy debacle is drawing to a close. It's not.
Although Facebook's updates may defuse this latest privacy bomb, this is merely a temporary cease-fire: The company's long-term goals will inevitably see it sparring with privacy advocates again in the not-too-distant future.
"Share more"
Facebook rarely misses an opportunity to espouse the benefits of sharing. As CEO Mark Zuckerberg pronounced in a piece in the Washington Post this week, "If people share more, the world will become more open and connected. And a world that's more open and connected is a better world."
The op-ed concludes: "We will keep focused on achieving our mission of giving people the power to share and making the world more open and connected."
If Facebook's mission is to build a "more open and connected world" in which users "share more," doesn't this contradict the desire of some users to keep their information private?
The push toward public sharing
Facebook's actions have clearly indicated the company's preference for public sharing. A privacy update in December reset Facebook's default settings such that more of your information -- status updates, photos -- would become public.
Facebook did indeed ask users to approve these changes via a dialog box, but it was much easier to simply agree to the revisions than to access the intricate settings panel and assert your desire for greater privacy. Other information -- such as your list of friends -- was made public without approval during the December update.
And although this week's changes provide the option to make your "friends list" private once more, Facebook won't make this the default setting.
Sharing your love life?
Further examples abound. In April, for instance, Facebook altered its "Likes and Interests" section to give users a stark choice: Make these details public, or they're deleted from your profile. Another recent update introduced "Instant Personalization," a system that shares selected, publicly available profile information with trusted third-party sites; this too is opt-out.
Even this week's changes set a lower bar for privacy than many users may find acceptable: Facebook's "Recommended" privacy settings encourage members to share their status updates, photos and relationships with the world.
Do you want the world to know who you're dating? Facebook thinks you do. At every juncture, Facebook urges its users to become more public with their data. The question is: Why?
Benevolent motives
Though the vision is somewhat utopian, there may be some merit to Facebook's argument that more sharing creates a "better world." At a press event this week, a journalist asked Zuckerberg, "Why not set the highest privacy settings by default?" His reply: "The point of the site is to allow you to connect with new friends or friends of friends."
This is the "discoverability" argument: By sharing more information about yourself, you create more opportunities to connect with others. You might be the only person on your block with a passion for Nike Dunks sneakers, but on Facebook you'll find more than 40,000 people with the same interest. By making this preference publicly visible, you can be found by others who share your tastes.
Sharing for society?
Sharing creates value for the individual, but it also delivers benefits to society as a whole. During any breaking news event, navigate to Twitter search, and you'll find a stream of updates from those on the scene. After U.S. Airways flight 1549 landed in the Hudson River in January 2009, Twitter user Janis Krums was the first to snap a photo of the incident and share it with the world. Had he posted the image to Facebook, it may never have been found.
Twitter is credited, too, with propagating images and first-hand accounts of this year's devastating earthquake in Haiti. Amid the Iran election crisis of 2009, meanwhile, Time magazine heralded Twitter as the "medium of the movement," a democratizing force that proved "very easy for the average citizen to use and very hard for any central authority to control."
To Zuckerberg's chagrin, perhaps, Time added, "The same might be true of e-mail and Facebook, but those media aren't public."
Business motives
It can hardly be a coincidence that a push toward public sharing suits Facebook's business interests. Nor has it escaped Facebook's attention that Twitter, a direct competitor, has enjoyed such staggering success with its "public by default" model. The benefits to Facebook are numerous.
If more Facebook profiles are public, you'll spend more time browsing Facebook. You'll comment more, make more connections and derive more value from the service. With more public status updates to mine, meanwhile, Facebook will be aligned to compete with Twitter in the area of real-time search.
Location wars
Facebook will soon square up to new competitors, all of which emphasize the value of sharing personal information. A soon-to-launch feature will allow users to share their location, putting Facebook in competition with burgeoning services such as Foursquare and Gowalla.
Unless Facebook treads carefully, a further privacy backlash may erupt around the sharing of location-based data. But such caution will come with a price: If users are not encouraged to share their location data with friends, friends of friends and perhaps the world at large, Facebook will be ill-equipped to battle this new crop of location-based startups.
A matter of time
Facebook's most recent privacy battle may leave the company relatively unscathed, but further tussles seem unavoidable. Whether through its mission to build a "more open and connected world" or a desire to wage war on a host of new foes, it's only a matter of time until Facebook's privacy predicament returns.
© 2013 MASHABLE.com. All rights reserved.