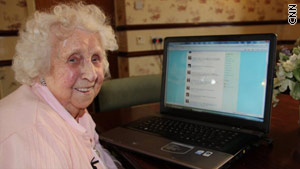 Ivy Bean, 104, lived in northern England and was believed to be the oldest regular user of Twitter.
STORY HIGHLIGHTS
Ivy Bean, 104, died early Wednesday
British woman had been called the world's oldest Twitter user
She had 25,000 pending friend requests on Facebook
London, England (CNN) -- From the two-story care home where she lived in the northern English city of Bradford, 104-year-old Ivy Bean would tell her nearly 57,000 Twitter followers around the world what she did each day -- from eating fish and chips to sitting in the garden.
Bean's warm and friendly nature came across in every message, and she regularly corresponded with her followers. Even when she had a bad day, she never dwelled on it for long.
Her mischievous side would sometimes come through, like when she tweeted that some of those at the care home were sipping lager instead of water as they sat outside in the sun.
Bean once tweeted her love of young pop star Peter Andre, and it got so much attention that Andre heard about it and got in touch. He managed a visit to see Bean, and a picture of him kissing Bean's forehead as she swooned became her profile picture on Twitter.
Two weeks ago, Bean entered the hospital with jaundice, and care home manager Pat Wright took over the tweeting on Bean's account. Wright revealed that Andre called his biggest fan daily and even sent her flowers the first day she got sick.
In the past few days, Bean returned to Hillside Manor care home, but she never fully recovered from her illness. Wright informed Bean's Twitter followers Wednesday that she died "peacefully" at 12:08 a.m.
"I'm sorry it took me so long to tell you, but it was a very difficult thing to do," she wrote.
Wright didn't reveal the cause of death.
Bean's online activity drew headlines in recent years because of her age, and she had been called the world's oldest Twitter user, though that is difficult to verify. She became a member of Facebook at age 102, but she quickly migrated to Twitter because it was easier, she said, and because she could have more followers.
She had maxed out her friend limit on Facebook. Earlier this year, Bean tweeted that she had 25,000 pending friend requests.
Bean told CNN in an interview last year that she knew people must think it's amazing that she was so active online, but she considered it a good way of keeping in touch with people.
For those who find it hard to jump on the Twitter bandwagon, Bean simply offered this advice: "Keep on at it."
"Old" was not the first -- or second or even 10th -- word that came to mind with Bean, an engaging, lively and friendly lady with a warm and infectious smile.
She won a gold medal last year at the home's Over-75 Olympics in the frisbee-throwing category. And she enjoyed bowling on the home's Nintendo Wii.
No surprise, perhaps, for a lady who was a gymnast when she was younger.
What did her friends think of her online popularity?
"I think they might be jealous," she said with a joking laugh.
News outlets from around the world requested interviews with the centenarian Twitterer. Bean's daughter, Sandra Logan, said she arrived for a visit one day only to find her mom busy with a call.
"I'm on the phone with Israel," Bean called out to her daughter.
Part of the reason Bean was so active online is because the care home makes activities for its residents a priority. One resident wanted to learn more about photography, so he now takes a course once a week at a local college. The home also helped another resident get a passport so he could visit his son in Spain.
Hillside Manor also hosted a quiz with students from the local college. The subject was history. The Hillside Manor residents won.
"We're trying to do something different than knitting or crochet," Wright, the manager, said last year.
Bean came from a large family with four brothers and three sisters, none of whom are still alive.
Bean, who was in the middle of her siblings, was approaching 40 when she got married during the "great war" to Harold Gibson Bean. He was a cook in the army and she worked in a mill.
After the war, the couple got a job "in service" to a wealthy family. Ivy Bean was a housekeeper and her husband was the cook and butler to Lord and Lady Guinness in Northamptonshire, England. Daughter Sandra, their only child, was born two years later, in 1947.
The couple retired together but Harold Bean died a few years after that, when he was in his 70s, Logan said.
Bean had five great-grandchildren, who called their famous great-grandmother "Little Nan."
Wright said Bean was always "very open" to new suggestions and new ideas and was always willing to have a go at something.
"She must have been like that all her life," Wright says. "It's not a new thing. I think if you're one of those people that'll try anything through your life, it doesn't stop when you get old."
FOLLOW THIS TOPIC