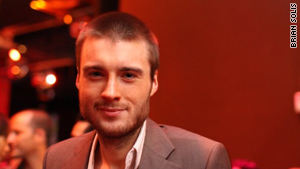 Mashable's Pete Cashmore says Facebook Questions bears similarities to Quora and Aardvark -- a positive sign.
STORY HIGHLIGHTS
Facebook Questions hopes to deliver relevant answers to queries

Some new Q&A services use online profiles to deliver expert-driven answers

Facebook targets questions to your network to increase chances of a useful answer
Editor's note: Pete Cashmore is founder and CEO of Mashable, a popular blog about social media. He is writing a weekly column about social networking and tech for CNN.com.
(CNN) -- Facebook began rolling out an ambitious new product this week: A "question and answer" service.
Facebook Questions hopes to deliver relevant answers to your queries, served up by friends and other members of the Facebook community.
But such Q&A services have a mixed record: Some provide invaluable answers from topic experts, while others simply spread misinformation. Which camp does Facebook Questions fall into?
The quality question
The poorest performing Q&A sites typically have a broad audience consisting of few experts. Yahoo Answers, which has built massive traffic from search engine queries, is regularly cited for its inane questions and uninsightful answers.
At the time of writing, the most popular question on Yahoo Answers is "How to disguise weed smoke?" The top-rated answer, meanwhile, is "how 'bout not smoking weed?"
This "open" model -- in which users weigh in regardless of topic-based expertise -- works well for Yahoo and its ilk since their primary interest is in building traffic to sell ads against.
For any question you type into Google, the chances are that someone already asked it on Yahoo Answers -- that page will show up in your search results, creating traffic and ad revenue for Yahoo when you click. But for those seeking genuine insight, Yahoo's offering falls flat.
Relevance and expertise
A new breed of Q&A services uses online profiles to deliver expert-driven answers. Aardvark, now part of Google, asks the user to log in using his or her Facebook account, before directing the question to the most qualified people in that person's social network. Unsurprisingly, the answers received are of far higher quality than on Yahoo Answers.
Another Q&A service receiving critical acclaim is Quora, founded by former Facebook CTO Adam D'Angelo. Quora also increases relevancy through the use of social-networking profiles: Log in with your Facebook account, and the site will suggest topics for you to "Follow" based on your expertise. This system increases the odds of receiving answers from experts.
Is it a coincidence that two of the best new Q&A sites leverage information gleaned from Facebook to deliver more relevant answers? If third-party sites can match questions to topic experts using social-networking profiles, surely Facebook can do an even better job?
A good start
Facebook Questions does bear many similarities to Quora and Aardvark -- a very positive sign. For instance, you can "tag" your question with a topic, and Facebook will direct the question to those users who list that topic in their interests.
And of course Facebook understands that we tend to share a lot in common with our friends (and friends of friends) -- so questions are targeted to your network to increase the chances of a useful answer.
But Facebook's new service could still go the way of Yahoo Answers. While in testing mode, Questions benefits from the fact that there is currently no public database of questions and the product is not being indexed by search engines -- should Facebook open up the product in this way, the quality of answers could fall.
Privacy issues remain
While the product is still embryonic, Facebook Questions looks to be a well-crafted product that could deliver highly relevant answers to your questions. But that doesn't mean it will be without its critics.
Every question asked with the tool is public -- a fact that could raise the ire of privacy advocates. Others might see Facebook Questions as yet another distraction -- something to be blocked out along with "fun quizzes" and incessant FarmVille updates from friends.
The opinions expressed in this commentary are solely those of Pete Cashmore.
FOLLOW THIS TOPIC