Why Google Wave's demise is good news for Facebook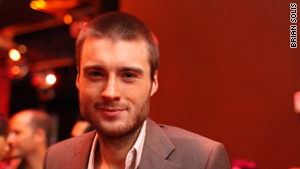 Mashable's Pete Cashmore says the death of Google Wave means the search giant is no force in social networking.
STORY HIGHLIGHTS
Google's social collaboration tool, "Wave," was abandoned this week

Wave was a testament to Google's tech skills, a symbol of its social networking struggles

Google's failure to develop engaging social services must please rival Facebook

Editor's note: Pete Cashmore is founder and CEO of Mashable, a popular blog about social media. He is writing a weekly column about social networking and tech for CNN.com.
(CNN) -- Google this week abandoned "Wave," its much-hyped social collaboration tool. Wave was perhaps the prototypical Google product: Technically advanced, incredibly ambitious and near-impossible to use.
Its demise is the canary in the coal mine for Google's social networking plans: Facebook is destined to build the Web's next wave, as Google continues to tread water.
Wave was a testament to Google's technical prowess: A real-time communication platform that combined elements of instant messaging, e-mail and collaboration software. The only problem: With its many dials and switches, mastering Wave was the web equivalent of programming your VCR.
Few users took the time to understand the product, and mainstream adoption proved unattainable.
It's the same fate that awaited Google's other recent foray into the social realm: Google Buzz. This Twitter-like service seemed smart in theory, but Google's inability to build simple and compelling social tools meant the service was perceived as a nuisance rather than a breakthrough.
All of which must have Mark Zuckerberg rubbing his hands together in glee. While Google is one of the few companies large enough to build a significant social network, Google Wave's demise is further proof that these efforts (rumored to be called "Google Me") are destined to fail.
Like Wave, Google Me will likely be a work of technical wizardry too advanced for us mere mortals to understand.
Google's failure to develop engaging social services is more disastrous than it might seem at first. Social networking is no longer just a time-waster for young people -- it now reaches all demographics and encompasses personalized search, highly targeted advertising and the red-hot social gaming trend.
As Facebook builds a user base of more than 500 million people, it also stockpiles the personal information required to provide more comprehensive ad targeting -- and a more personalized search engine -- than Google could ever hope to engineer through algorithms alone.
Google isn't unaware of this predicament: The company is throwing its resources behind a plan to escape its social networking slump. But short of a miracle -- an acquisition of Facebook nemesis Twitter, perhaps -- Google won't become a socialite anytime soon.
FOLLOW THIS TOPIC