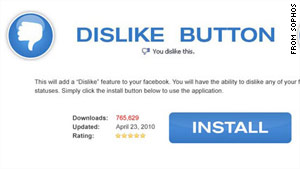 A security firm says a fake Facebook "dislike" button is going viral online. Facebook only allows people to "like" content.
STORY HIGHLIGHTS
A fake Facebook "dislike" button is going viral online

A security researcher says the app is a scam

Beware of Facebook messages with links to "dislike" button apps

The researcher says this is part of a trend for pop scams on the social network

(CNN) -- Lots of people think the Internet is a bit too chipper -- so much so that they've clamored for a "dislike" button on Facebook, which, to date, only officially allows people to "like" content on its site.
Now, some social-media spoilers are trying to turn the public's desire for that dislike button into a scam, according to a security researcher.
Graham Cluley, a senior technology consultant at the British security firm Sophos, wrote in a blog post on Monday that fake dislike buttons are going viral on Facebook.
Watch out for posts that look like this, he says: "I just got the Dislike button, so now I can dislike all of your dumb posts lol!!"
That statement on Facebook is typically followed with a link, Cluley writes, that takes people to a fake Facebook application.
Instead of installing a dislike button, Cluley says, the application uses a person's social network to continue spreading the fake program.
"If you do give the app permission to run, it silently updates your Facebook status to promote the link that tricked you in the first place, thus spreading the message virally to your Facebook friends and online contacts," he writes.
The tech blog Mashable writes that the fake dislike button app indirectly points Facebook users to a real add-on for the browser Firefox, which can be used to install a dislike button.
The blog offers general security advice for Facebook users:
"As usual, we advise you not to click on suspicious links on Facebook, especially if they promise something that sounds impossible or unlikely. Do not give away your personal information, unless you're absolutely sure why and who you're giving it to," says Mashable, which is a CNN content partner.
Cluley says the fake dislike button is part of a recent trend of Facebook scams whose titillating links play on tech memes and themes from pop culture.
"It's the latest survey scam spreading virally across Facebook, using the tried-and-tested formula used in the past by other viral scams including 'Justin Bieber trying to flirt,' 'Student attacked his teacher and nearly killed him,' 'the biggest and scariest snake' and the 'world's worst McDonald's customer,' " he says.
Typically, such schemes are designed to steal information from Internet users. That information then can be sold to other parties. The scams also can be used to co-opt an Internet user's social network contacts.
If you accidentally installed the fake application, click on the "account" button at the top right of the Facebook home screen. Navigate to the option that says "application settings," and disable the fake "dislike" application.
If the app has posted to your Facebook wall, go to your profile page and delete those posts to stop the scam from spreading further. Mashable also recommends checking your "interests" and "likes" settings from the "edit my profile" menu, to be sure that the app hasn't lodged itself there as well.
Or Facebook may do all of that for you.
The company says it is trying to block the "dislike" app.
"We're working hard to block and remove malicious applications that claim to provide dislike functionality and inadvertently update people's statuses," a Facebook spokesman said in an e-mail to CNN.
"It's important to keep in mind that there is no official dislike button. Also, don't click on strange links, even if they are from friends, and notify the person and report the link if you see something suspicious."
FOLLOW THIS TOPIC