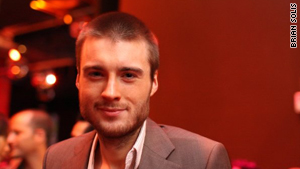 Mashable's Pete Cashmore says social news site Digg has received critcism for the new version it launched this week.
STORY HIGHLIGHTS
Social news site Digg launched a version that seeks to change the way we consume news
A vocal segment of Digg's users claim to hate the new site
Backlashes are familiar to Web companies that change things on their sites
Editor's note: Pete Cashmore is founder and CEO of Mashable, a popular blog about social media. He is writing a weekly column about social networking and tech for CNN.com.
(CNN) -- Social news site Digg this week launched a major new version that seeks to change the way we consume news radically.
The refreshed service seems perfectly aligned to redefine news consumption in the era of Twitter feeds and Facebook status updates.
The San Francisco, California-based startup might be on to a winner, except for a significant hurdle -- a vocal segment of Digg's users claim to hate the new site.
Here's why Digg had to do this:
Information overload
On paper, the new Digg checks all the boxes. As the cost of news production declines -- spurred by the falling costs of both content creation and distribution -- many of us find ourselves suffering from "information overload."
Staying in the know is easy if you subscribe to hundreds of blogs, Twitter feeds and Facebook pages, but who really has the time to stay on top of dozens -- perhaps even hundreds -- of news sources to find the good stuff?
That's where services such as Digg can fill a gap -- they claim to show you the best and throw away the rest.
Pleasing publishers
The new Digg is essentially "Twitter for news." Users subscribe to a number of sources and receive a stream of stories filtered by friends. While this personalized feed is useful to users, it's also an attempt to please publishers.
Previous incarnations of the service were "hit or miss" for news outlets -- your story either hit the jackpot by reaching the Digg homepage, or (more likely) withered in obscurity. Now that users each receive different stories in their streams, news outlets can hope for a more reliable stream of visitors.
Serving publishers appears to be a focus of the new Digg. News sites are now able to push their stories into Digg's system automatically, and the service has selected some news outlets it chooses to recommend to users. (Disclosure: These include CNN and Mashable.)
Given that publishers are able to generate significant traffic for Digg by using the site's widgets and buttons, it's in the company's interests to cater to this group.
Users revolt?
A group less impressed by the relaunch is Digg's user base -- or at least a segment of it.
At the time of writing, the "Most Dugg" comments on one story include "Plain and simple... this sucks! Bring back the old Digg" (738 Diggs), "NEW DIGG SUCKS!!!!" (371 Diggs), and "The person who designed and/or suggested the design for this new DIGG should probably be fired" (611 Diggs).
That kind of scathing criticism might lead an indecisive company to backtrack -- with hundreds of users seemingly up in arms about the changes, surely Digg needs to flick the switch and return to its old ways?
Pushback is normal
And yet such backlashes are familiar to Web companies. Perhaps most famous for its user rebellions is Facebook, which has attracted an uproar after virtually every product announcement.
From its expansion beyond college networks, to its experimental advertising services and frequent privacy dust-ups, Facebook has faced controversy at every turn -- and emerged as the largest social network in the world.
Twitter, too, has seen its users rebel. A change to the company's replies system sparked one such backlash, while the introduction of a "Retweet" format received a similar reaction.
User resistance to product changes is by no means a sign of imminent doom: It's a common occurrence for even the most successful Web companies.
The threat of obscurity
While coming under fire is rarely desirable, Digg's "old site" had met a fate far worse than criticism: It was being ignored.
After launching in 2004, Digg in recent years had descended from its peak as a revolutionary news site. A lack of product development allowed Twitter and Facebook to shape the media consumption habits of Web users, and Digg risked becoming irrelevant.
A radical, bold and brave step was needed to bring the service up to date and meet the needs of modern news consumers. Bold moves are rarely made without a backlash, and for Digg this relaunch is a case of "do or die."
There's no certainty that Digg can turn itself around: Returning to the lofty $200 million valuation reported back in 2006 seems like a herculean task. But caving to criticism will do nothing to turn the tables: Digg is committed to a new direction, and its best option is to stay the course.
FOLLOW THIS TOPIC