iTunes Ping: The missing thing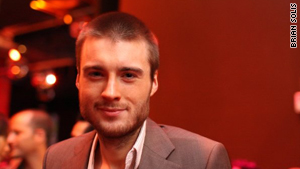 Ping is currently just another way to follow Lady Gaga, Pete Cashmore says.
STORY HIGHLIGHTS
Ping is designed to help us find new artists by asking our friends what they're listening to
Recommended artists have no relationship to the music preferences you enter
Very few iTunes artists have been informed of the launch so selection is limited
(CNN) -- Apple this week launched Ping, a new social network that runs within the iTunes software.
Apple hopes the new service will solve the "Discovery" problem -- with so much music out there, how do you find new artists you might like?
But Ping falls short of this lofty goal: The network is currently just another way to follow Lady Gaga.
Ping is certainly an inspired idea: Top-seller charts and "Staff Picks" don't suffice when it comes to finding music to match our personal preferences. iTunes' "Genius" feature attempts to recommend new music based on your existing iTunes library, but its algorithms often do a poor job.
Why not help us find new artists in the same way we do in real life: By asking our friends what they're listening to?
That's the idea behind Ping, which takes the "activity stream" format popularized by Twitter and Facebook and applies it to the music your friends are "talking about, listening to, and downloading".
In theory, this should take us beyond mainstream hits and further down the so-called "long tail" of lesser known artists. It's here that Ping fails to deliver.
Lack of personalization
The problem begins at sign-up: Despite entering my preferences as "Rock, Classical and Hip Hop", Ping immediately encouraged me to follow Lady GaGa, Katy Perry, Taylor Swift and a host of other popular acts.
The simple truth: The "Artists We Recommend You Follow" have no relationship to the preferences you enter.
This issue is easily overlooked. After all, most social networks try to entice users by pushing popular options first: Once these new users are "hooked", they're then encouraged to delve deeper.
Most artists are missing
Apple encourages this form of exploration via its search box, but such searches currently come up empty.
Very few iTunes artists have been informed of the launch, and few have a direct relationship with iTunes should they wish to set up an "artist profile" -- instead, they rely upon go-betweens like the digital music distributor TuneCore.
But a solution may be forthcoming. After penning an article titled "iTunes Ping: What About the Bands?," Mashable's Brenna Ehrlich was informed by TuneCore that "We will be able to get more and more TuneCore Artists set up over the next weeks as Apple works to authenticate and set up Ping Artist accounts for the millions of artists within iTunes."
"Invitation only"
These negotiations will do little to help independent artists, however -- the blog HypeBot asked Apple how independent artists could set up profiles on the site. Apple's response: "Artist profiles were launched by invitation, but we'll keep adding more and more."
iTunes Ping is a worthy concept: By adding social interaction to the music-buying experience, Apple could see a significant increase in sales, and artists could form a more direct connection to their fans.
But until the majority of artists are able to create official accounts, iTunes Ping merely benefits the privileged few.
FOLLOW THIS TOPIC