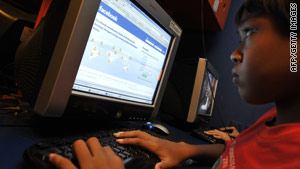 Users are flocking to social media sites but not posting any more content, a new report says.
STORY HIGHLIGHTS
Forrester Research: Content creation on social networks has "plateaued"

New report says social networks are growing, but few users create content

In North America, social networks grew 8 percent

But the percentage of content creators did not increase since 2009

(CNN) -- It seems the internet has its share of digital wallflowers.
Online social networks are growing, but the percentage of users uploading content to sites like YouTube and Facebook has "plateaued" worldwide, according to a report released Tuesday by Forrester Research.
The report, called "A Global Update of Social Technographics," says people joining online social networks aren't uploading videos, posting status updates and engaging in conversations like those before them.
"A lack of growth in this area translates into a lack of fresh ideas, content, and perspectives," the report says.
"For example, one-third of online consumers in the U.S. regularly watch user-generated videos on sites like YouTube. But only 10 percent of U.S. online consumers upload videos they've created to public sites. The traits required to be a [person who creates digital content] are unique, and at this moment, the consumer market interested in these behaviors has plateaued."
The report says social networks continue to grow, but many of the newcomers can be classified as "spectators" because they read articles and watch videos that are posted by other users of these websites.
In North America, the number of people who joined online social networks grew by 8 percent from 2009 to 2010, according to the report. Other regions saw more growth, with the number of people using these sites in Europe growing by 11 percent and the number of people joining them in metropolitan China jumping by 18 percent. Australia also saw 11 percent growth.
Meanwhile, the percentage of those people creating online content held steady or decreased slightly across all regions surveyed by Forrester.
In metro China, for example, the percentage of people creating content decreased 3 percent compared to 2009 numbers.
Content creation held steady in North America and in other regions.
Mashable, a CNN Tech partner website that covers social media, wrote that the Forrester report indicates people on the internet are comfortable being passive.
"When it comes to social media, it would seem then that the average user feels most at home taking more passive actions, and that a majority of content creation is primarily limited to the existing content creator crowd," the blog wrote.
The blog GigaOm writes that the news is "not a surprise" given other reports about how few social networkers actually produce content. One Harvard University report, for example, says that 10 percent of Twitter users create 90 percent of the content on that microblogging site.
"Although the Web and social networking allow anyone to become a content creator and publish whatever they wish, it seems that a majority of users are happy to consume what others create," GigaOm says.
Forrester conducted online surveys of more than 26,913 people in the United States; 25,535 people in Europe; and 7,690 people in Asia, including Australia, to reach the conclusions in its report. The online surveys were conducted before April, and the results were compared with similar surveys from 2009.
FOLLOW THIS TOPIC