Why Zuckerberg should like the Facebook movie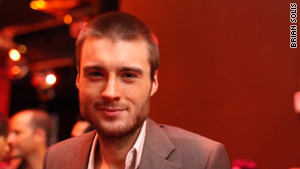 Mashable's Pete Cashmore says Facebook's Mark Zuckerberg shouldn't worry about his portrayal in "The Social Network."
STORY HIGHLIGHTS
Facebook CEO Mark Zuckerberg reportedly opposed new movie, "The Social Network"

But columnist says Zuckerberg comes off as hardworking, if socially inept

It's his accusers, Cashmore says, who appear as "entitled brats"
Editor's note: Pete Cashmore is founder and CEO of Mashable, a popular blog about social media. He writes a weekly column about social networking and tech for CNN.com.
(CNN) -- "The Social Network," the movie dramatization of the founding of Facebook, comes to U.S. theaters on Friday. Facebook CEO Mark Zuckerberg reportedly opposed the making of the film, which charts his rise to become the world's youngest self-made billionaire.
Zuckerberg need not worry. "The Social Network" ultimately paints him as a tireless visionary who stops at nothing to achieve his dream.
Facebook's management had cause for concern, of course: "The Social Network" is based on Ben Mezrich's book "The Accidental Billionaires," a fictionalized account of the site's founding which used an ousted Facebook co-founder as its primary source.
The movie's trailer, meanwhile, teases a tale of high drama, hard partying and betrayal.

Video: Travers: 'Social' best of 2010

Video: Subjects of 'The Social Network'

Video: Talking with 'The Social Network'
The film itself tells a different story. Harvard's exclusive clubs and drunken parties are part of a world that largely rejects Zuckerberg's socially inept introversion.
Tyler and Cameron Winklevoss, who would later claim that Zuckerberg betrayed them, are portrayed as entitled brats with access to Harvard's most exclusive social spots. Co-founder Eduardo Saverin, meanwhile, spends much of his time pursuing entry to The Phoenix, one of Harvard's "final clubs."
As his supposed co-founders engage in the distractions of college life, Zuckerberg alone remains steadfastly -- if somewhat selfishly -- dedicated to Facebook's success.
It's a narrative that will ring true for tech entrepreneurs. Good ideas are of no consequence without indefatigable commitment and constant innovation. And whether driven by vengefulness or a genuine desire to change the world, there's no doubt that Zuckerberg sticks with it.
If the Facebook founder is concerned about being represented as anything but a genius with an industrious work ethic, he can breathe a sigh of relief.
iReport: Review "Social Network" with one photo
But if the characteristically shy Zuckerberg is simply uncomfortable in the spotlight, he's out of luck. "The Social Network" is a captivating production created by many talents which will propel it far beyond Silicon Valley.
FOLLOW THIS TOPIC