First Foursquare badge unlocked in space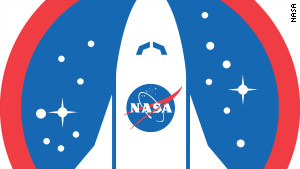 Astronaut Douglas Wheelock unlocked this "NASA Explorer" badge by checking in to the international space station.
STORY HIGHLIGHTS
On Friday, an astronaut became the first person to "check in" via Foursquare in outer space

A creative interactive agency brought NASA and Foursquare together

Douglas Wheelock checked in at the international space station, 220 miles above Earth

(CNN) -- Astronaut Douglas Wheelock checked in on Foursquare on Friday, 220 miles above Earth, becoming the first person to use the location-based social network in space.
Far above the bars and coffee shops where Foursquare users normally use the popular mobile application, Wheelock unlocked the "NASA Explorer" badge by checking in to the international space station at approximately 11 a.m. ET from a laptop.
Foursquare, a location-based mobile application that lets users "check in" to venues and compete for virtual badges and mayorships of hot spots, is one of the fastest-growing social networks, about to reach 4 million users.
"I just unlocked the 'NASA Explorer' badge on @foursquare!" Wheelock said in a message on his Twitter feed.
Dennis Crowley, co-founder of Foursquare, was ecstatic about the new space badge.
"Check-ins from around the world have been cool, but this blew my mind! I can't wait to see the battle for the mayorship of the international space station," he told CNN.
The NASA Explorer badge is available only in outer space. Wheelock's check-in marks the beginning of NASA's partnership with Foursquare. When the astronaut comes back to Earth, visitors to different NASA offices, launch facilities and other places affiliated with space will be able to check in and unlock the same badge.
"Show this badge and get a free scoop of astronaut ice cream," reads the badge copy.
JESS3, a creative interactive agency based in Washington, D.C., was the group that brought NASA and Foursquare together. Recognizing their similar mission of exploration and discovery, NASA wanted to create excitement around space exploration and looked to Foursquare to help make the aging space program hip.
"NASA's work ranges from proving flight technologies to exploring the universe," NASA spokesman Bob Jacobs told CNN in an e-mail. "Partnering with Foursquare allows NASA to connect directly with the people who visit our locations and share with them the interesting things that happen at each place."
NASA has fully embraced other forms of social media. Earlier this year. astronaut T.J. Creamer sent the first tweet from space. Wheelock is also a prolific tweeter via his Twitter account, which has more than 43,000 followers.
FOLLOW THIS TOPIC