Space shuttle set to land Tuesday morning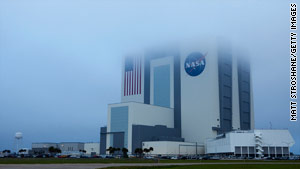 Poor weather conditions at Kennedy Space Center scrapped Discovery's landing plans. NASA will try again Tuesday.
STORY HIGHLIGHTS
Shuttle on schedule for a 7:34 a.m. ET touchdown in Florida if conditions allow
Officials could land shuttle at Edwards Air Force Base in California if necessary
Volcanic ash cloud has not affected the landing plans, NASA said
(CNN) -- After spending an extra day in orbit, the seven astronauts aboard the space shuttle Discovery prepared for a Tuesday morning landing at Kennedy Space Center in Florida as NASA officials closely monitored weather conditions in the area.
Bad weather prompted mission managers to scrap two landing opportunities at the space center on Monday.
Officials were ready to redirect the landing to Edwards Air Force Base in California if Florida's weather proved unfavorable during the two Tuesday morning landing windows.
The shuttle was on schedule for a 7:34 a.m. ET touchdown at Kennedy if conditions allowed. A second opportunity at Kennedy if a delay is necessary would lead to an 8:08 a.m. landing.
If the site becomes Edwards, the first landing opportunity would lead to an 8:01 a.m. ET touchdown, with other possibilities for 9:35 a.m. or 11: 11 a.m. landings.
The astronauts were awakened at 10:21 p.m. ET Monday to begin landing preparations, according to NASA, with mission control playing Willie Nelson's "On the Road Again" as their wake-up call.
On Monday, overcast clouds and a chance of showers in the Cape Canaveral, Florida, area forced the wave-off of an 8:48 a.m. ET opportunity. A scheduled landing at 10:23 a.m. ET also was canceled.
The volcanic ash from Iceland's Eyjafjallajokull glacier, which has caused widespread flight disruptions throughout the world, did not affect the landing plans, NASA said.
The shuttle's re-entry course was not near the ash cloud, the agency said.
The shuttle launched on April 5 and docked to the International Space Station two days later.
It marked the first time four women have been in space at one time.
Three women -- mission specialists Stephanie Wilson, Dorothy Metcalf-Lindenburger and Japanese astronaut Naoko Yamazaki -- comprised part of Discovery's crew.
NASA astronaut Tracy Caldwell Dyson was already at the space station.
The astronauts' trip included three spacewalks and delivery of more than seven tons of equipment and supplies.
There are only three shuttle missions remaining before the space shuttle fleet is retired.