STORY HIGHLIGHTS
New York has long lagged behind California's Silicon Valley as a tech hotbed

But a number of successful tech startups have launched in NY in recent years

Some industry experts say if your startup needs heavy engineering, stick to California

But many tech entrepreneurs prefer New York's urban energy and way of life

New York (CNN) -- Silicon Valley -- or Silicon Alley? To non-techies, that's the San Francisco Bay Area versus New York. If you're an internet startup company, it's a debate that's probably plagued you at some point.
For years, California's Bay Area has been home to tech powerhouses such as Apple and Google and the most successful internet startups: YouTube, Wikipedia, Facebook, Twitter.
But now, New York is turning up the heat on its West Coast competition with some successful startups of its own: think Tumblr, the blogging platform; Foursquare, the mobile social-networking game; and Gilt Groupe, an online store for discounted designer clothes.
None of them has the brand power of the California counterparts. Yet many young tech entrepreneurs are subscribing to the notion that if you can make it in New York, you can make it anywhere.
And the city is trying to give them a hand. At the TechCrunch Disrupt conference in New York last month, Mayor Michael Bloomberg announced the creation of a $22 million venture capital fund to invest in promising New York-based tech companies. He also said that venture-capital funding increased by 19 percent in New York in the first quarter of 2010, despite the sputtering economy.
Monday kicks off another tech event, Internet Week New York, an eight-day happening to celebrate the city's growing startup community. Organizers say this year's festival, which runs through June 14, is expected to draw more than 20,000 people. Internet Week New York is an open event, meaning anyone can host a web-related gathering and peg it to the event.
"Hundreds of millions of people are using the internet because anyone can use it. Everyone can do what they want. And that's how we decided to make this festival: not what we wanted it to be, but so all the energy that was here from NYC companies could be present," Internet Week Chairman David-Michel Davies said.

Video: Tech startups thriving in New York
Yahoo, HP, Microsoft, Pepsi and Motorola are all participating in events during Internet Week. Mashable, a social media blog, is also hosting a daylong event Tuesday in partnership with CNN.
The largest public event will be the NY Tech Meetup on Tuesday at NYU's Skirball Center. The meetup is run by Nate Westheimer, co-founder of AnyClip, a New York-based startup that allows users to find movie clips online.
"I can say that over the last four years, one thing that's happened is that we've had to convince ourselves to stay in New York and do our startups," he said. "Four years ago, we thought we would be better off if we were in San Francisco."
The two most important factors in this East Coast vs. West Coast debate may be business connections and the quality of life. So let's break them down:
Business connections
One common thread among industry experts is that if your startup needs heavy engineering, it's better to stick to the West Coast.
"Silicon Valley is still very research-oriented and has a big brain trust around computer science," said Chris Sacca, the cowboy shirt-wearing former Google staffer and founder of Lowercase Capital.
Sacca knows his stuff. He has financial interest in 37 companies, including Twitter and Gowalla, with two-thirds of them based in San Francisco.
"I don't think New York is the next Silicon Valley, but it's a big compliment," he said.
"A lot of the innovation that's happening at the moment is not at the core of technology; it's not fundamental software. A lot of the innovation is social. On those dimensions, [New York] obviously has a lot to offer historically," said Albert Wenger of Union Square Ventures.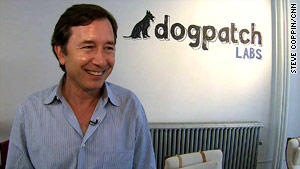 Peter Flint runs the New York office of Dogpatch Labs, which helps fund worthy tech ventures.
"The types of people that are going to come up with those innovations are going to be in metro cities like New York," he added.
"I think what the city is doing and what everyone else is trying to do is to keep people from starting a business here and moving to Silicon Valley," said Peter Flint of venture-capital company Polaris Venture Partners.
Flint is General Partner of Polaris and also runs the New York office of Dogpatch Labs, a Polaris-funded incubator he describes as a "frat house for geeks." Dogpatch promotes what he calls "open-sourced entrepreneurism."
"Not only do you have to have a great business idea for your startup, but you also have to be morally qualified to be housed at Dogpatch. The person is just as important as the business they are building," Flint said.
Dogpatch's New York office houses about 35 people from 15 companies in a 3,000-square-foot loft space.
"I don't know if New York will ever become Silicon Valley," Flint added. "In some ways, do you want it to become Silicon Valley? The culture here is very different than the culture there."
Quality of life
From Frank Sinatra to Jay-Z, popular songs have long celebrated the New York way of life. And some tech entrepreneurs see the city's energy as a selling point for their businesses.
"I'm a native New Yorker. What makes New York special is, you have a high level of resources and people to make things happen," said Josh Weinstein, CEO of GoodCrush, which bills itself as a purist version of Facebook solely for college students.
Some New Yorkers had less kind words for the urban culture of Silicon Valley, centered in San Jose, California.
"San Jose is a terrible place to live," said ProperCloth CEO Seph Skerritt, also a resident at Dogpatch Labs. "It's just not appealing to me. When you are doing a startup, you don't separate your work from your life. It's more like you live your company to some degree, so you have to make it fun."
Others disagreed.
"I gotta be honest, I see the excess going in the other direction when it comes to quality of life," said Sacca, of Lowercase Capital. "I see people move to Silicon Valley because they can actually own homes; they have yards. There's so much access to the outdoors. You can surf every morning and still have a productive life."
New York is famous as a city that never sleeps and the center of fashion, media, advertising and finance empires. It's also the most expensive city in the U.S., making it challenging to start a business there.
The average price of a two-bedroom apartment is $1.38 million in New York, according to Trulia, a real estate website. In San Francisco, that two-bedroom will cost you about $775,000.
"You can go to the Midwest, [and] there are plenty of places where you can get very low rents and very low taxes," Bloomberg said in promoting his city as a tech center, "but there is no one to talk to in the context of people who are in your business."
FOLLOW THIS TOPIC