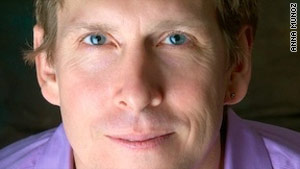 Hugh Forrest says SXSW Interactive is successful in part because of crowd-sourcing technologies.
STORY HIGHLIGHTS
SXSW Interactive is an annual tech conference in Austin, Texas

The conference's event director says crowd-sourcing helps SXSW build an audience

Online community submits ideas for panel presentations at SXSW

That makes for a better event and a more engaged audience, writer says
Editor's note: Hugh Forrest is the event director for the South by Southwest Interactive festival, an annual technology and new media conference in Austin, Texas.
Austin, Texas (CNN) -- Over the past few years, the South by Southwest Interactive Festival has emerged as one of the most important events in the international new media landscape, bringing thousands of the industry's most creative thinkers to Austin, Texas, every March for five days of panels, networking and fun.
How has the event grown in a time when attendance at many tech-related conferences is declining? Our ability to harness the power of the online community via a simple crowd-sourcing interface called the SXSW PanelPicker has been one of the main factors in our recent success.
The first part of the PanelPicker process begins Monday. We encourage anyone and everyone in the online community to submit an idea for a panel or a solo presentation for next year's SXSW event.
It doesn't matter if you are an experienced industry expert or a complete newcomer. If you think you have an intriguing topic for next year's event, then we want to hear about it. Proposals will be accepted through Friday, July 9. See http://panelpicker.sxsw.com for complete details on how to be involved in this exciting process.
All submitted proposals eventually will be posted on a web interface, which goes live on Monday, August 9.
The second part of the PanelPicker process empowers anyone (and everyone!) in the online community to browse this web interface and to vote on the ideas they think are most -- and least -- appropriate for the event.
Combined with the expertise of the SXSW Advisory Board and the input of the SXSW staff, this voting will help determine the bulk of the 400-plus sessions that comprise daytime programming for the March 2011 event.
So, what lessons about crowd-sourcing have we learned from the SXSW PanelPicker, lessons that are potentially valuable to other companies and organizations that want to leverage the power of the community?
Crowd-sourcing requires lots of work
Giving more power to the online community via the PanelPicker is definitely not the same thing as delegating this project.
Because we have moved from managing a small centralized office to organizing a cast of thousands living around the world, the selection of programming has become a much more complicated and time-consuming endeavor.
While SXSW has greatly benefited from this approach, we've learned that crowd-sourcing is not for the faint of heart. This will increase your workload, not reduce it.
Your community will surprise you
Data collected via the PanelPicker helps us learn a lot more about our audience and our field of expertise.
As an example, over the last few years, we have seen a sharp increase in the number of business and entrepreneur-related proposals submitted for consideration at SXSW -- reinforcing our understanding that, despite mainstream reports to the contrary, certain sectors of the economy are very healthy.
If you engage in a crowd-sourcing project, be prepared to be surprised by the data you uncover.
Smart crowds can sometimes be dumb
While the voting preferences of the online community are extremely important, SXSW also understands that the PanelPicker can turn into a popularity contest and some of the most unique proposals get lost in the mix.
Hence, our selection process also is heavily influenced by the opinions of the SXSW Advisory Board and the expertise of SXSW staff. If you are considering a crowd-sourced solution, implement a checks-and-balances system so the best and the brightest aren't watered-down by unproductive group-think.
Contributors become customers
Since the PanelPicker was implemented in 2007, SXSW Interactive has enjoyed a sharp rise in attendance.
Why? Because our contributors are our potential customers. Soliciting organizational input creates a sense of engagement that makes people more likely to attend the event, whether or not their idea is selected.
While the PanelPicker model, per se, may not be right for your business, if you can find a strategy to better engage your audience, we think you will see very positive results.
Crowd-sourcing starts conversation
Soliciting ideas from the crowd is but the first step in the long journey to better programming. Almost all the user-generated proposals are significantly improved after a few rounds of conversation between staff and contributor.
In fact, detailed two-way communication is the key to PanelPicker success. This increased dialogue is what makes crowd-sourcing click. More dialogue fosters more creativity. More creativity fosters more innovation. More innovation fosters more success.
Or, at least, it has for SXSW.
FOLLOW THIS TOPIC