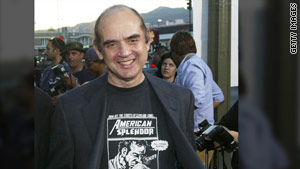 Revered curmudgeon Harvey Pekar, who died Monday, will live on via the internet.
STORY HIGHLIGHTS
Comic pioneer Harvey Pekar's work will live on via the internet

Video of Pekar's confrontation with David Letterman has more than a half-million views

Clips of Pekar-based "American Splendor" movie, art from his comics find homes online

Editor's note: Damon Brown is a northern California-based freelance writer and author of books including "Damon Brown's Simple Guide to the iPad" and "Porn & Pong: How Grand Theft Auto, Tomb Raider and Other Sexy Games Changed Our Culture."
(CNN) -- Called the Mark Twain of comic books, gifted curmudgeon Harvey Pekar is dead at 70. He was known for his print work, his eccentric behavior and his unpredictable interviews.
And the Cleveland, Ohio, native's antics live on through the internet.
Pekar is best known for his "American Splendor," an autobiographical comic series, drawn by artist R. Crumb, that began in 1976 and ran for more than three decades.
Pekar was (and, as he proudly proclaimed, remained) a file clerk who, seemingly overnight, became a pop cultural icon with his side job as a writer.
As noted online by cultural critics, his comics in general, and "American Splendor" in particular, represented uncomfortable, unsatisfactory lives led in post-war America.
In 2003, Pekar's life was immortalized onscreen by Paul Giamatti in the movie "American Splendor" (Watch the trailer on YouTube). A critically and commercially successful indie film, "American Splendor" conveyed Pekar's dark humor and bleak romanticism.
It punctuated real-life scenes with comic caricatures from the long-running series. The opening sequence, itself immortalized online, is a great example.
Among the most popular Pekar-related web content since his death Monday has been video of his 1988 confrontation with David Letterman.
Always up for an argument, Pekar confronted Letterman for what he called shlling for industrial conglomerate, and NBC owner, GE.
Letterman sits while the nervous Pekar tries to get under Letterman's skin until, finally, the host starts cracking on his wardrobe, suggests that he's mentally ill and ends the talk by banning him from the show.
The funny part? According to an article in Time, Pekar showed up on Letterman two more times.
Here's to good ratings. And with nearly 560,000 views, the YouTube video suggests that Pekar's acerbic wit is just as potent two decades later.
The Plain Dealer, Pekar's home paper, has a warm, honest obituary of the author along with a gallery of his work with R. Crumb.
To quote: "Unlike the superheroes who ordinarily inhabit the pages of comic books, Pekar could not leap tall buildings in a single bound, nor move faster than a speeding bullet. Yet his comics suggested a different sort of heroism: The working-class, everyman heroics of simply making it through another day, with soul -- if not dignity -- intact."
FOLLOW THIS TOPIC